A Phone Gear Star Named Andrew
by
Remember onetime highflier Andrew (ANDR)? This producer of communications equipment, including coaxial cables, microwave antennas, and cellular-phone accessories, was one hot stock--soaring from 10 in early 1996 to 41 in early 1997. But disappointing earnings caught up with the stock, and it sank as low as 10 by late 1998. Andrew has since bounced back to 20. Many are still skeptical, but Michael Jamison of Brandywine Asset Management says Andrew is a cheap way to play the wireless telecom boom that he sees coming.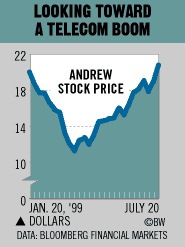 "Andrew stands to benefit from the surging demand for equipment from the wireless telecom operators," he says. Jamison expects the skepticism on Wall Street to wither once the spending on wireless infrastructure systems balloons. He figures Andrew is worth 39--six times its book. Jamison expects Andrew to earn 75 cents a share in 1999, $1 in 2000, and $1.20 in 2001.
Analyst Walter Piecyk of PaineWebber, who recently upgraded his rating on Andrew from neutral to attractive based on expectations of a turn in the company's business in the second half, thinks the growth in wireless infrastructure is critical to Andrew's recovery. Its U.S. business accounts for half Andrew's sales. It should benefit, says Piecyk, from the sizable increases that he expects in the 1999 capital spending plans of cellular and PCS operators.
Before it's here, it's on the Bloomberg Terminal.
LEARN MORE