business
U.S.: So Much Wealth, So Little Restraint
Stock market gains are fueling demand and complicating the Fed's job
By
How do you stop a runaway train? That's the problem facing the Federal Reserve right now. The Consumer Express is barreling down the tracks, pulled ahead by three powerful locomotives: solid job and income growth, easy credit, and soaring capital gains. The Fed would like to see the express downshift to the speed of a local, and a consumer slowdown is imperative to head off inflation worries that could lead to more severe hikes in interest rates.
However, this decade's surge in wealth suggests that the Fed's job of braking growth may be more difficult than at any time in its history. As Fed Chairman Alan Greenspan has pointed out, rising stock portfolios as well as home prices have accounted for one percentage point of the 4% annual growth in real gross domestic product over the past three years. During that time, household net worth has soared by $9.4 trillion (chart). Based on the rule of thumb that households spend 3 cents to 5 cents of every $1 of new wealth, those gains over the past two years have added 1.5 percentage points annually to the growth in real consumer spending.
This kind of stimulus is unprecedented in the postwar era, and Greenspan has noted that even if stock prices just hold steady, there is still enough wealth in the pipeline to keep spending zipping along for months to come. Already during the past year, consumer buying has grown 5.5%, the strongest yearly pace in 15 years, and it has accounted for more than 90% of economic growth.
THE FED'S DILEMMA: Although the wealth windfall is a key source of growth, Greenspan & Co. believe that policy should not directly target the stock market. Stock prices usually do suffer when interest rates rise. But given the stock market's double-digit gains so far in 1999, households already have racked up sufficient wealth gains to propel spending forward into 2000.
Consequently, to downshift growth from its heady 4% trend to the 3% range that Greenspan has hinted is within the Fed's speed limit, the policymakers may have to squeeze harder than they have in the past to achieve the same result, although the economy's true speed limit is still a matter of debate. If stock prices do not stop contributing so much to demand, the labor markets and credit availability will have to bear the brunt of that adjustment. But if stock prices move sharply lower, then growth in 2000 could slow more than the Fed wants.
Moreover, monetary policy also may be complicated by fiscal policy. Republicans in Congress want to use part of the federal surplus for tax cuts. But such cuts will stimulate demand. In particular, trimming the capital-gains tax rate will push the stock market higher, contributing even more to the wealth effect that is motivating households to spend more than they earn.
ALTHOUGH POLICYMAKERS want to see demand slow, the latest data on the stock market, bond yields, and borrowing suggest that consumers have the wherewithal to keep their spending increasing close to the 5% annual rate of the past two years. Even with foreign producers satisfying an increased share of U.S. demand, the recent pace in consumer spending is fast enough to keep the economy growing by 4%, a rate that the Fed fears will breed price pressures.
So far, the Fed's June 30 rate hike has only boosted the economy's financial stimulus, arguing that more aggressive action may be needed. Since that quarter-point increase, the Dow Jones industrial average has risen 3%, bringing the year-to-date gain to 21%, and the yield on the 30-year Treasury bond has fallen from 6.07% to 5.91%. Clearly, the markets believe there is not a lot of urgency at the Fed to slow the economy. Unless the Fed changes that perception, the markets will continue to power the rapid growth in demand.
Consumers continued to splurge in the second quarter. Retail chain stores, by some surveys, posted sales gains of more than 7% from the year before, and the Commerce Dept. reported that June buying rose 0.1% from May, on the heels of May's 1.2% advance from April. The June gain was held back by a drop in car buying. Excluding vehicle sales, June receipts increased 0.4%. However, June auto sales fell to an annual rate of 16.9 million, down from a 13-year high of 17.2 million in May.
The June store data mean inflation-adjusted retail sales grew at a healthy 5% annual rate in the second quarter, and the market rally since June 30 will help fuel spending in the second half. Moreover, the wealth factor influences what people buy. Over the past three years, overall retail sales have grown an average of 6% per year before inflation adjustments. But big-ticket items, such as motor vehicles, furniture, and building materials, increased at faster rates. Staples such as food and gasoline are rising only modestly, even with the recent runup in gasoline prices (chart, page 23).
THERE IS A DARKER SIDE TO consumers' good times, however. Households are boosting their spending far above the 3.4% pace of real spendable income, relying increasingly on wealth gains as a substitute for traditional new savings. That strategy has resulted in a negative savings rate for the first time since the Great Depression.
The trend to skimp on savings could backfire down the road. If the Fed succeeds in slowing job and income growth, consumers may feel the need to start saving out of their current income again. Worse, households now have no readily available cushion to fall back on should they face dimmer job-market prospects, tighter borrowing conditions, or a drop in stock prices.
The boom in wealth has not only meant that households feel less need to save. They are also taking on more debt. After slowing their rate of debt accumulation from about 14% per year in 1995 to only about 4% by mid-1998, households are starting to add to their debt burdens at an accelerating pace. Households added $12.1 billion to their installment debt in May, bringing the growth rate from a year before to 7.2% (chart). The sum of installment debt, home equity loans, and auto leasing now equals more than 24% of aftertax income, implying that households today are more highly leveraged than at any time in the postwar period.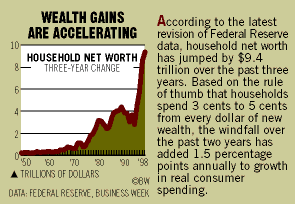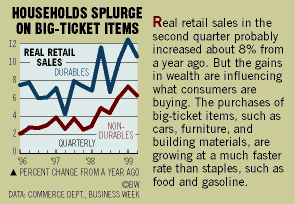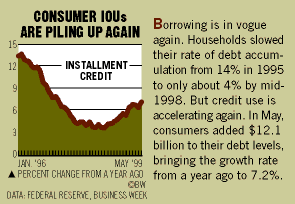 All this means that slowing the economy to a sustainable growth rate will be an unusually difficult maneuver for the Fed. Tighter credit conditions have always hit certain segments of the economy, such as factory workers and borrowers, harder than others. But this time, without a slowdown in wealth gains, which have accrued mostly to the top 20% of income earners, a modest hike in interest rates will have less of an impact on growth than it had in the past. So more hikes may be necessary. The Fed's task: slow down this Consumer Express without derailing it.
Before it's here, it's on the Bloomberg Terminal.
LEARN MORE