business
Sweating Blood In Buenos Aires
These days, investors are asking "What else can go wrong?"
By
Once again, the remarks of a rebellious politician set off a rout in Latin America's financial markets. On July 12, after Argentine presidential candidate Eduardo Duhalde said he would ask Pope John Paul II to support a one-year moratorium on foreign debt payments, Argentine stocks and bonds plunged: The Buenos Aires bolsa fell by 9%. Markets around the region quickly followed. The near-panic was similar to what occurred in Brazil in January, when a state governor announced that he wouldn't pay debt owed to the federal government. A week later, Brazil was forced into a chaotic devaluation that sent investors racing for the exits.
Argentina does not look as if it will unravel imminently. The day after the sell-off, the stock market rallied when investment banks, including Salomon Smith Barney and Lehman Brothers Inc., discouraged clients from pulling out and after Duhalde appeared to backtrack. Furthermore, Buenos Aires has $27 billion in currency reserves--more than enough to stave off a speculative attack on the peso. The country also has a $2.8 billion line of credit available from the International Monetary Fund. "There was an over-reaction in an already nervous market," explained Economy Minister Roque Fernandez.
LAME DUCK. Perhaps. But the economy is in a precarious position, and it could worsen in coming weeks and months. The lame-duck government of President Carlos Saul Menem must fund a budget deficit expected to exceed $5 billion this year--1.7% of GDP. That will be tough. Recession-weary Argentines are fed up with tax increases and spending cuts. And with the markets so volatile, investors are increasingly reluctant to buy Argentine debt.
Adding to the uncertainty is the campaign for October's presidential election. Menem, who has pushed Argentina head-first into the global economy, is leaving office after 10 years. The leading contenders to replace him--Fernando de la Rua, the mayor of Buenos Aires and candidate of the opposition Alliance, and Duhalde, who is a Peronist--have unsettled investors by wavering in their commitment to open markets and fiscal austerity. Under Argentina's currency board system, in which each peso in circulation is backed by reserves, the government does not adjust monetary policy. That makes fiscal discipline essential to market credibility.
Meanwhile, Argentina's second recession in four years is expected to shrink the economy by 2% to 3% this year. Unemployment is now approaching 15%. Exports, hurt by Brazil's 33% devaluation and low commodity prices, will drop 15% or so, to $22 billion. The automotive industry, which accounts for 13.5% of national output, is reeling. The economic and political climate has ignited fears that the country might be forced to devalue the peso. But Menem and both major candidates, fearing a return to runaway inflation and economic instability, insist they won't take that route.
Menem, as a strategy for discouraging currency speculators, has promoted adoption of the U.S. dollar as the nation's currency. The thinking is that speculators would leave Argentina alone since in effect there would be no currency to attack. But dollarization would not resolve the country's budget deficit, and it wouldn't eliminate the 800-point premium over U.S. Treasuries that investors now demand on Argentine bonds.
DOLLARIZATION? In fact, Argentina already is semi-dollarized. Under the currency board, the peso and dollar are exchanged freely everywhere, from banks to restaurants. Prices are set with the dollar as a reference, and more than half of all bank deposits are in greenbacks. Both Duhalde and De la Rua say they favor the board, but both have dodged the question of dollarization to avoid being seen as stealing the idea from Menem. Talks with the U.S. on adopting the dollar will be stalled at least until the next President takes office in December.
But Duhalde's remark has raised a longer-term concern: Is Argentina able--and willing--to pay off its debt, which will grow to $140 billion this year, from $116 billion two years ago. At a July 13 auction, the Treasury gave investors as much as five percentage points more than just a month earlier. Argentina, which has issued $8 billion worth of paper abroad this year, is Latin America's leading foreign borrower. Its debt is now six times the value of its exports--by far the region's highest ratio. A $500 million debt swap in Buenos Aires was postponed on July 14 because of the market turmoil. "Obviously, this is an inopportune time," says Treasury Secretary Pablo E. Guidotti. "The market is expensive."
Duhalde, who presents himself as a more traditional, populist Peronist than Menem, has put himself in the hot seat on the debt question. He rattled investors a week before his comments about a moratorium when he said world leaders should forgive some of Argentina's debt. A few days later, he vaguely asked for richer nations to "help us," without elaborating. De la Rua, who has a slight lead in the polls, has suggested that he would increase public spending on social welfare programs.
Such statements are intended to appease Argentine voters, who have become increasingly impatient with a government that is widely perceived to be frivolous and corrupt. In early July, some 270,000 truckers paralyzed the delivery of food and essential services when they struck to protest a new tax on vehicles, intended to fund a $700 million wage increase for school teachers. The strike was called off after three days, when Congress postponed the tax.
The stoppage illustrates Argentina's bind. The government will now have to find $700 million someplace else or risk angry protests from students and teachers. In May, Menem backed down on a plan to cut education spending following demonstrations and the resignation in protest of Education Minister Susana Decibe. Clearly, further tax hikes or spending cuts carry political risks, and raising money in capital markets is tougher. In his first term, Menem stood firmly against protesters, from retirees to public workers, who frequently marched in front of the Casa Rosada presidential office to oppose public-sector firings and budget cuts. But since winning reelection in 1995, Menem hasn't followed through with a much-needed second wave of reforms.
RALLYING POINT. Argentina still has time to wriggle out of its predicament. But it will have to cut spending to appease the markets. It could also use the crisis as a rallying point to push on stalled measures that investors and the IMF have urged for years. One that would encourage the markets is the proposed "fiscal convertibility law," which limits the growth of public spending and debt and create a rainy day fund to soften the blows of future financial crises.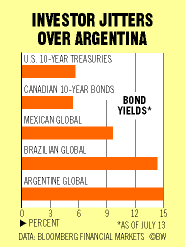 Menem could also revive reform of inflexible labor laws and complicated tax codes, which has also been on investors' wish lists. "Labor reform is the big one," says Abel Viglione, an economist at FIEL, a Buenos Aires think tank. "The others would be secondary if we could get more flexibility in the workforce." As part of its arrangement with the IMF, Argentina was also supposed to pass legislation overhauling its revenue-sharing arrangement between the federal government and provinces. The current deal discourages the provinces from cutting spending or aggressively pursuing tax collection. Another proposal allows for private participation in state-owned Banco de la Nacion Argentina, the country's largest commercial bank.
With the populace restless and investors skeptical, the government must act boldly or risk handing over a country in turmoil to a new President.
Before it's here, it's on the Bloomberg Terminal.
LEARN MORE