Ready For A Profit Gusher
Production cutbacks and rising demand may send oil prices soaring
Stanley Reed
From oil glut to oil shortage? Not yet. But it seems clear that the success of the production cutbacks by the Organization of Petroleum Exporting Countries (OPEC) and the rebound in Asia's economies are likely to create a reversal of fortune for major oil producers in the coming months.
After watching earnings collapse in 1998 and the first two quarters of this year, Big Oil seems poised for a big comeback in the second half. Frederick P. Leuffer, an analyst at Bear, Stearns & Co. in New York, estimates that there will be an overall jump in profits of 85% in the third quarter for the top 16 companies and as much as 100% in the fourth. According to First Call Corp., a consensus of analysts' estimates puts earnings for the majors up 5% for 1999 and up 27% for 2000 (chart). "But I believe the analysts are being very conservative still," says Charles L. Hill, director of research for First Call. "They are basing these numbers on what I think may be lowball oil prices."
Oil's comeback has been primarily driven by improved supply and demand. On the supply side, there is a combination of production cutbacks by OPEC and Western companies. On the demand side, there is increased consumption of petroleum products by Asia and the gas-guzzling U.S. economy. With demand currently outstripping supply by 1 million to 1.5 million barrels a day, stockpiles are likely to fall rapidly in the coming months, according to oil-industry estimates. "The industry's overhang in inventories is being worked off faster than a lot of people would have thought," says Kenneth Haley, manager of energy forecasting for Chevron Corp.
That, some analysts predict, could keep oil prices soaring. Already, the benchmark price of West Texas Intermediate has roared back from just under $11 a barrel in December to break $20 a barrel for the first time since late 1997. Robert L. Christensen Jr. of FAC/Equities, a division of First Albany Corp., is expecting prices for West Texas Intermediate to hit $22 to $23 a barrel in the second half of the year. But "There is a case for $27-a-barrel oil," says Bear Stearns' Leuffer.
Such heady expectations have helped fuel a comeback for oil stocks. The Amex index of the 16 leading companies is up almost 23% since the beginning of the year.
But will these stronger prices tempt the OPEC members to increase their output--as they have done in the past to capitalize on price spikes? Many observers believe they won't. This time, OPEC nations seem more united in their priorities. In May and June, "OPEC compliance was awfully strong--in the 90% to 94% area," Christensen notes. "You have a powerful policing force in the Persian Gulf."
MASSIVE COST-CUTTING. Who? The new top cops are erstwhile antagonists Saudi Arabia and Iran--brought together by Iran's reformist President Mohammed Khatami and Saudi Arabia's Crown Prince Abdullah, who is running the Kingdom for his brother King Fahd. At the same time, Venezuela's new President, Hugo Chavez, seems to be supporting OPEC's efforts to raise oil prices, reversing his country's previous policy of setting its own production limits.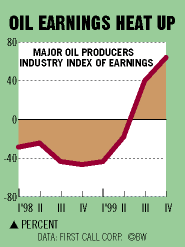 Meanwhile, major oil producers also seem to be showing restraint by keeping a lid on exploration and development. And massive cost-cutting programs by the majors should help keep profits rising even if $27-a-barrel oil doesn't appear. The recent round of megamergers is driven in large part by efforts to cut operating costs. BP Amoco, for instance, is pledging to take out some $3 billion a year in costs by 2001, and it will begin working on an additional $1.5 billion in annual cuts once its takeover of ARCO is approved by regulators. Royal Dutch/Shell Group, which came under heavy fire earlier this year from the financial markets, is working to carve away $2.5 billion in annual costs by 2001.
It's a tricky balancing act for oil producers, who can do nicely if prices remain stable, at around $20 a barrel. But to keep prices at that level will require OPEC to tinker with current production quotas--a move sure to create some dissension in the ranks. Then again, stability in commodity prices may be even more of an impossible dream than long-term OPEC unity.
Before it's here, it's on the Bloomberg Terminal.
LEARN MORE