business
Nec: This Is A Japanese Company?
Execs are doing the unthinkable: Jettisoning losing units
Irene M. Kunii
Koji Nishigaki could be what the doctor ordered for NEC Corp., Japan's ailing high-tech titan. Four days after taking over as president last March, the tough-talking Nishigaki warned employees in an inaugural speech that they should brace for change. And here it comes. In June, Nishigaki struck a deal with Hitachi Ltd. President Etsuhiko Shoyama--the first of its kind between Japanese rivals--to consolidate their money-losing memory-chip operations. He is now set to merge or spin off other unprofitable or ancillary operations. "There will be many types of deals," says the 61-year-old executive. "We are approaching companies and being approached ourselves."
Even a year ago, such talk would have been tantamount to treason in Corporate Japan. But recession, declining profits, and global competition have taken their toll on Japan's electronics giants, including Hitachi and Toshiba Corp. These companies, the bluest of blue chips in Japan, long abided by a simple business model: Grow by diversifying and protect hobbling operations instead of shedding them. Now, that strategy is clearly being tossed aside.
NET DREAMS. Nowhere is this more evident than at NEC, the second-largest chipmaker worldwide, behind Intel, and Japan's No. 2 computer manufacturer after Fujitsu Ltd. After it posted its worst loss ever of $1.3 billion, on sales of $39 billion, in the year to Mar. 31, NEC's board dumped the leadership and appointed Nishigaki as the first nonengineer to run the company. It then announced plans to slash 15,000 jobs worldwide--10% of its workforce--in the next three years.
Now, the ambitious Nishigaki plans to eliminate unprofitable businesses and concentrate on those tied to the Internet. Among the first to go were an equipment-leasing operation called NEC Home Electronics Lease and Nihon Denki Seiki, a precision-machinery maker. When it comes to new investments, Nishigaki says returns and cash flow will come before such traditional considerations as employment and the corporate family. The chip deal with Hitachi is part of the new realism. Although NEC managers were in talks with Hitachi, it wasn't until Nishigaki stepped in that NEC agreed to co-develop dynamic random-access memories (DRAMs). NEC's chip operations lost almost $300 million last year--more than half of that in DRAMs.
Overall, Nishigaki wants to pare NEC down to the core areas of computers, semiconductors, and telecommunications according to whether they contribute to NEC's future Internet business. On July 5, for instance, NEC and Hewlett-Packard Co. agreed to develop a next-generation Internet network for Japan. "NEC will concentrate only on the Internet-related areas of its three main businesses and spin off unrelated or distant operations," explains Nishigaki, a former soccer star at the University of Tokyo, where he majored in economics.
In September, he will unveil plans to streamline the bureaucracy and board to speed the sluggish decision-making process. NEC will also loosen its group structure to give divisions more independence. Nishigaki's target: pretax profits of $2.5 billion on sales of $50 billion by 2002.
Can Nishigaki pull it off? A lot will depend on whether he can consolidate control in an organization where decisions are based on a consensus that takes months to establish. Nishigaki has a firm grip on the computer division, which he has managed and where he helped build up a systems-integration business. He also appears to have the upper hand in the semiconductor unit. But he has yet to crack the elite telecom division, where most past presidents had their start. "Nishigaki isn't in full control yet," says Yoshiharu Izumi, director of research at Warburg Dillon Read. "He needs to be before NEC can compete globally."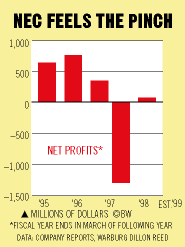 MONEY PITS. Nishigaki is also under pressure from investors to undo NEC's past blunders--including an overall investment of nearly $1.6 billion in computer manufacturer Packard Bell NEC. Over the past year alone, NEC covered $670 million of the U.S. unit's losses. Another trouble spot is China, where expensive chip operations have yielded little return. Nishigaki has already withdrawn from an Internet infrastructure project, a joint venture with the Beijing government, that would have cost NEC $300 million in startup and operating costs.
This fiscal year will be crucial for Nishigaki as he strives to revive a relic of Japan's traditional industrial economy. There is an array of forces against him--not least the tradition and inertia that weigh upon all of Corporate Japan. But Nishigaki represents a new breed of manager, and he just might pull it off.
Before it's here, it's on the Bloomberg Terminal.
LEARN MORE