business
Navigant Sets Sail
By
The core operation of Navigant International (FLYR)--providing business-travel management services to midsize companies--isn't exactly novel or exciting. But of late its stock has taken wing, shooting up from 4 13/16 in early April to 87/32 on July 13. And Jay Petschek of investment firm Corsair Capital Partners says it's worth at least twice that price. What has Navigant got that other travel companies don't?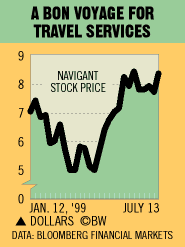 Navigant, No. 5 in corporate travel management, has embarked on an integrated program to provide online services to customers for both corporate and leisure travel. Petschek believes Navigant is in talks to form alliances with several Internet portal companies. To bolster its Internet services, Navigant has named Paul Blackney, chairman of XTRA On-Line, to its board. Blackney is also a board member at Priceline.com, the Internet auction house. Blackney hopes to help Navigant to become a premier electronic travel service company. Among Navigant's clients: US West, Sotheby's, Samsonite, and Walgreens.
The Internet allows Navigant to provide a higher level of service, notes Petschek, who has accumulated nearly 5% of Navigant shares. He thinks Navigant will eventually spin off its Internet business and take it public. He puts the value of the Internet operations at 10 to 15 a share. Analyst Keith Mullins of Salomon Smith Barney, who has a "speculative buy" rating on the stock, says Navigant should earn $1 a share in 1999, up from 61 cents in 1998.
Before it's here, it's on the Bloomberg Terminal.
LEARN MORE