business
Germany: At Last, A Fitful Recovery
Finally, the euro zone's largest economy is picking up, but not fast enough to help the euro. Germany's real gross domestic product rose a larger-than-expected 0.4% in the first quarter, powered by a 2.3% increase in consumer spending and a 3.4% jump in business investment.
Overall GDP growth would have been higher except for a sharply slower pace of inventory accumulation. That drag, coupled with export weakness from slower global growth, hit manufacturing in 1998. But the sector is looking better now. While overall industrial production slipped 0.2% in May, manufacturing output alone rose 0.4%, after a 0.5% gain in April. Factories are lifting production in response to increased domestic and foreign orders (chart). But output remains below its year-ago level.
Capital-goods orders are leading the demand pickup. Consumers, on the other hand, have scaled back their spending. Retail sales in April and May were 3.6% below their first-quarter average. And consumer confidence fell in May to its lowest reading since January. With demand sluggish, price pressures are nil. Consumer prices in June were up only 0.4% from a year ago.
The spending slowdown can be traced to weak labor markets. Although Germany's jobless rate, as measured by the Bundesbank, fell in June, it was still a high 10.5%. And a recent survey of consumers showed that unemployment remained their biggest concern.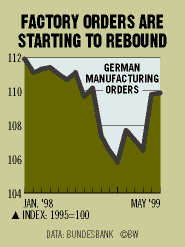 The outlook does not offer much hope for job growth. Recent forecasts made by the major German economic consulting firms forecast real GDP growth of 1.5% to 1.7% for 1999, with growth above 2% in 2000. The pickup, however, will not lead to stronger employment growth, so the jobless rate will likely remain at or near double digits.
Germany's gradual recovery reduces the chance of an interest-rate hike by the European Central Bank. But with the U.S. Federal Reserve hiking rates, the euro remains under intense downward pressure--and it's likely the currency will soon trade at par with the U.S. dollar.
Before it's here, it's on the Bloomberg Terminal.
LEARN MORE