Forget The Mall. Kids Shop The Net
Soon they'll spend billions online. How should marketers and parents respond?
by
Ever wonder what your kid is doing online? Consider how Jason Smikle, 13, spent the past few nights on the Internet. He sampled the CD soundtrack for the Eddie Murphy movie, Life, ogled Nike's new $165 Air Jordan XIII Lows, and browsed through an assortment of $1,300 PCs from the likes of Dell and Gateway. "I did everything you can do except buy," Jason says. Later, he did buy the CD at a local store.
Kids are going Net-crazy. Nearly 50% of teenagers are online and, of those, information gleaned from the Net has an impact on how 68% of them make purchases, according to Greenwich (Conn.) researcher NFO Interactive. Nearly 18% have bought something at cybershops, and a further 50% of online teens have used the Internet to shop for items before rushing to purchase them at brick-and-mortar stores. And young people won't outgrow Net shopping they way they did their last pair of Gap jeans, either. Kids from 5 to 18 will spend an estimated $1.3 billion online in 2002, up from an expected $1.9 million this year.
The Internet, remember, is this generation's rock `n' roll, and E-commerce gives this already compelling medium even more, shall we say, twist and shout. Teenagers pumped $150 billion into the U.S. economy last year. The potential to transfer some of that to the Web has online merchants drooling. There's a "frenzy over teens," says Dan Pelson, chief executive of Bolt Media Inc., a Web community for teenagers.
Web sites eager to cash in on the purchasing power of teens are quickly revamping their tactics. Bolt, where teens can chat about everything from the coolest shoes to the hottest sports teams, has scrapped its mostly Bolt-brand shopping mart in favor of purchasing options integrated into every area of its site. Visitors to Bolt's sports zone will learn about sales on mountain bikes. Clothes hounds will get sneak peeks of hot fashions in the style zone. And members are notified by E-mail of sales tailored to their specific tastes.
KIDDIE PLASTIC. Or check out CDNow, the popular music site where 28% of the visitors are 13 to 19. This fall the company will allow tune-hungry teens to download music from more than 10,000 bands on its network of Web sites. Advertisers will be able to buy banner ads on the sites, and CDNow will stuff its CDs with advertisers' coupons and fliers.
Not having credit cards used to keep kids from shopping online, but that's changing. Issuers mailed out 3.2 billion card solicitations last year, and now an estimated 7 out of 10 college students have their own vinyl. What's more, several Web vendors, including Bolt, plan to issue Web-only debit cards that let teens buy items off their site. They'll work like this: Kids deposit money into an account and then show the account number at a site to make purchases. "This is going to make getting a driver's license and a checking account a distant second and third to the new most important thing in life," says Jason's father, Ken Smikle.
Young people's urge to splurge, however, heightens concern about an Internet that many parents see as a vast world fraught with danger. As kids spend more time online--nearly seven hours a week--they increasingly are only a click away from gambling, pornography, and online advertising. The potential for worrisome activity became clear in April, when Andrew Tyler, 13, placed $3.1 million worth of fictitious bids on merchandise advertised on Web auction site eBay. The site didn't require Tyler to supply a credit card, so his bids never cost his parents any money. "My fear is that kids will get hold of their parents' credit cards, and all they have to do is type in a number and shop forever," says Susan E. Rossano, a New Jersey elementary school teacher whose 14-year-old shops on the Web.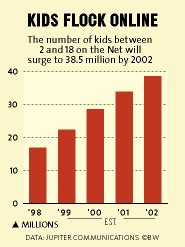 How do Web merchants balance teens' interest in Web shopping with parents' concerns? Several sites--DoughNET, RocketCash, iCanBuy--feature "digital wallets" that store a specified amount of money that's connected to a savings account. This way, kids don't rack up debts, but they can spend whatever money they have. Other sites, including DoughNET, let parents specify where their kids are allowed to spend money. "The parent-control system is a way to ease children into an adult world," says DoughNET CEO Ginger D. Thomson. Web merchants had better hurry up. Jason Smikle and other kids shop as if they're already there.
Before it's here, it's on the Bloomberg Terminal.
LEARN MORE