business
Finally, The Pc On A Chip For Less Than $100
But as National Semi launches its Geode, some wonder if it will fly
By
Since he took over National Semiconductor Corp. in 1996, CEO Brian L. Halla has waged a sometimes lonely crusade to create a "system on a chip"--cramming most of the functions of a PC onto one thumbnail-size sliver of silicon. Intel Corp. Chairman Andrew S. Grove dismissed it as a "fantasy," as did Wall Street. Even Halla wondered whether National could pull it off.
Now, perhaps, comes sweet vindication. Three years after Halla was recruited from LSI Logic Corp. to rescue ailing National Semiconductor, his PC-on-a-chip is finally real. On July 15, National plans to unveil the first member of its new Geode family, a chip with 7 million transistors that handle computing, graphics, audio, and even digital video. Halla hasn't revealed a price yet but says the chip will cost less than $100, below the cost of all the parts it replaces. More important, it's far smaller and gobbles less electricity, which means it can be used to power all sorts of so-called "information appliances," from TV set-top boxes and wireless Web-cruisers to belt-buckle PCs.
Halla's timing is impeccable. With PC growth slowing, outfits ranging from Compaq Computer Corp. to Sony Corp. are scrambling to reach new customers, especially those who find conventional PCs too complex. Indeed, researcher International Data Corp. expects sales of info appliances to surge 59% per year for the next four years, hitting 56 million units worldwide in 2002. "In two years, you'll see these appliances everywhere," gushes Halla.
Some manufacturers are already on board. Thirty companies, including Acer, Grundig, and Chinese PC giant Legend have committed to build info appliances with National chips, and a further 80 are near signing up; most are planning set-top boxes. The biggest win so far: Philips Electronics. Geode "fits well into our road map," says Philips Vice-President Gerrit Niemeijer.
Halla has boasted that info-appliance sales could hit 600 million units a year in the next decade. But Wall Street analysts aren't so sure. What's more, most info appliances won't use the Intel-compatible chips that dominate in PCs: IDC figures 75% of them will use cheaper alternatives from other manufacturers. "I just don't buy into the vision the way National has pitched it," says analyst Scott Randall of SoundView Technology Group. He figures that Geode, which is expected to ship in early 2000, won't add much to National's sales in the current fiscal year and will amount to just $220 million, or less than 10% of revenues, in 2001. Halla won't comment.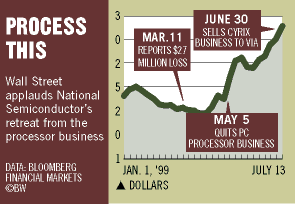 CUTTHROAT. Since coming to National, Halla has spent a half-billion dollars snapping up companies whose technology is now appearing in Geode. The largest deal, the 1997 purchase of Cyrix Corp. for $388 million, put National into the cutthroat PC-processor business. And its financial results tell the tale: Price wars with Intel and Advanced Micro Devices Inc. helped trim revenue 27% since 1997, and National has lost money in the past five quarters. Its stock fell from 42 7/8 in October, 1997, to as low as 7 7/16 last fall. Now the stock is up to 27 5/16--for one reason: National is leaving the PC-chip business. On May 5, National said it would stop selling PC processors, and on June 30, it announced a deal to sell Cyrix to Via Technologies Inc. of Taiwan for an undisclosed sum. Now, analysts expect a return to profitability within two quarters.
Still, the info-appliance strategy won't provide competitive relief. Intel is making a combo chip, code-named Timna, which could appear a year after Geode. And analysts figure that Geode will have to sell for less than $50 to grab market share, which could squeeze profits. But the greatest threat might be that consumers simply stick with PCs--some of which now come free with Net service. For Halla, that would the final irony.
Before it's here, it's on the Bloomberg Terminal.
LEARN MORE