Commentary: The "Babe Factor" In Women's Soccer
Mark Hyman
The sight of the pony-tailed heroines of the U.S. World Cup soccer team kicking their way to victory against China on July 10 was a thrilling and perhaps historic moment for women's sports. Women, I have it on good authority (namely, my wife), will always treasure the image of 90,145 fans in various stages of hysteria gathered for the title game at the Rose Bowl in Pasadena, Calif., to celebrate an exceptional group of female athletes. Speaking for the men, however, I can say confidently (if a bit sheepishly), the Kodak Moment of the day was the sight of Brandi Chastain--in all her muscular glory--doffing her shirt.
It's a simplification, for sure. But face it: Chastain's post-match celebration, in which she peeled off her jersey to reveal only a sports bra, grabbed more attention than any balletic corner kick in the U.S. victory over China. Chastain says it was spontaneous, and maybe it was. Certainly, the photo-op snagged the media-savvy Chastain tons of exposure--and assured the game a place on countless front pages.
"It's the Babe Factor," says Mary Jo Kane, a University of Minnesota professor and director of the Tucker Center for Research on Girls & Women in Sport. "My fear is that women will never be taken seriously as great athletes as long as we link being a female athlete with being sexy."
GAMES WOMEN PLAY. Herein lies the dark dilemma for women's sports. For many women athletes and promoters, the ultimate goal is to get what men have: a professional league of their own in every major sport and the lucrative TV deals, endorsements, and other benefits that go with them. But women will have a tough time getting there without extending their fan base to include millions of men.
So far, most guys have been, in a word, indifferent to the games women play. Have you checked out the crowd demographics at a Women's National Basketball Assn. game lately? Let's just say there's never a wait to use the men's room. Women's golf and tennis do much better among male spectators, but they're hardly top picks.
Not that this is news, but the lasting lesson of the World Cup may be that a bit of sex appeal is what will make women's sports more, well, appealing. Chastain, as finely tuned an athlete as there is, seems to have made her peace with that--and she's cashing in: If you're a sports-bra maker, who do you want to pitch your wares?
There's no shame in promoting athletes who look as good as--or better than--they play. When jut-jawed Mike Mussina pitches for the Baltimore Orioles, there always seem to be a few more female baseball fans in Camden Yards, based upon my own personal unscientific survey. And you can see how women respond when sports hunks such as Andre Agassi, Grant Hill, and Derek Jeter are playing.
Women's sports have more to sell to a male audience than cleavage. Anyone who watched even a few minutes of the World Cup saw a U.S. team made up of highly skilled, disciplined players, who seemed to glide across the field, the ball never leaving their feet.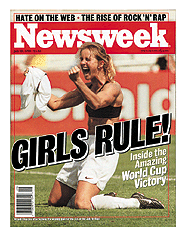 YOUNG MOMS. The World Cup team had another edge: players who are almost as much fun to follow off the field as they are on. The team roster includes everything from a college student to thirtysomething mothers of toddlers. Mia Hamm became a heroine for millions of women and girls. Guys could gawk at a discreet nude of Chastain in a men's magazine, adorned by just a pair of Nikes and a soccer ball.
Now that women's soccer is here, it apparently isn't going away anytime soon. The U.S. team will be the odds-on favorite at the 2000 Summer Olympics Games in Sydney, and there is talk of a women's professional league as early as 2001. Thanks to Brandi Chastain, a lot of men are marking the date. Maybe by then, men will be able to focus on the extraordinary athletic talent on display, rather than the babe factor. Then again...
Before it's here, it's on the Bloomberg Terminal.
LEARN MORE