Can Corporate Bonds Replace Treasuries?
A few companies might have the issuing clout to match T-bills
Toddi Gutner
When Ford Motor Co. floated an $8.6 billion bond package on July 9, the auto maker made headlines everywhere. The biggest private issue ever, it eclipsed the previous record set by AT&T, which sold $8 billion in bonds on Mar. 23. In the past, such huge issues were attempted only by governments--which is precisely the point. The No. 2 carmaker decided to lump together the borrowing that it would have done throughout the year into a jumbo issue that would provide the liquidity normally associated with the stuff that Uncle Sam puts out. Indeed, says David Moore, senior North American funding analyst at Ford Motor Credit Co.: "We're becoming a more competitive alternative to Treasuries."
Does the world really need such an alternative? Well, yes, because the Treasury market is shrinking. With the government rolling in cash, borrowing has already fallen, cutting the inventory of U.S. Treasury bonds. Treasury issuance has dropped from $546 billion in 1995 to $486 billion in 1998, and only $191 billion has been issued so far this year. And if the Clinton Administration prevails in its plan to pay down the national debt, the instruments that have become the benchmark for all other lending--and a core asset in many portfolios--could disappear by 2015. "People have to start thinking of substitutes," says Fares Noujaim, co-head of global capital markets at Bear, Stearns & Co. and global coordinator of the Ford deal.
To be sure, budget projections are precarious at best, and few people think there will ever be zero Treasury debt. But still, declining liquidity in Treasuries is a concern, since one of the main virtues of the bonds for individuals, funds and corporate holders is their liquidity, which reduces risk.
The Administration seems to be blessing the notion of Treasury surrogates. "As the supply of Treasuries dwindles in the future...there would be a ready supply of securities of other issuers, including high-quality corporations and government-sponsored enterprises," Stuart Eizenstat, the nominee for Deputy Treasury Secretary assured Senate Finance Committee Chairman William V. Roth Jr. (R-Del.) in written testimony in early July.
Ford's issue seems to fit the bill. The company had $24 billion in cash before its latest bond issue and earned a record $2.5 billion in the second quarter. Ford typically issues $12 billion a year in debt, mostly to finance dealer inventories, leases, and auto loans. This year is no different, except for the size and frequency of the bond sales. Ford's approach is patterned after the benchmark bonds that Fannie Mae and Freddie Mac started last year, which are also aimed at providing a highly liquid T-bond-like investment. Investors were so hungry for the Ford deal that the offering grew from $6.5 billion to $8.6 billion, and even then, the $14 billion demand couldn't be met.
"We hit a home run with this deal," says David P. Cosper, treasurer of Ford Credit. In addition to gaining the prestige of creating a near-benchmark security, Ford saved money. By lumping what might have been four issues into one, Ford cut cost by some $20 million.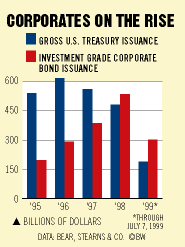 A SELECT GROUP. Still, there are limits to how well even the best corporate issues can substitute for Treasuries. Only a handful of companies, such as Ford, General Motors Acceptance, and General Electric Capital, have the credit rating and financial strength to issue large, global, and regularly scheduled bonds. And even with these issuers, there is still greater credit risk than in Treasuries. "What happens to a corporate benchmark if there is an economic crisis?" asks Marilyn Cohen, president of Envision Capital Management Inc., a fixed-income firm in Los Angeles.
Top-rated corporate debt has already proved resilient. Like Treasuries, it can "weather blips in the marketplace," says Mark DeVito, managing director of debt capital markets at Merrill Lynch & Co. He notes that Ford issued a $1.5 billion batch of 30-year bonds last fall, when bond market jitters were highest and other companies couldn't get deals done. "Investors are willing to pay a premium for liquidity," says DeVito. With the government running a surplus, they're likely to be paying a premium for some time to come.
Before it's here, it's on the Bloomberg Terminal.
LEARN MORE