A Second Chance For Take Two?
by
Video games are as popular as ever, but the shares of video-game companies, such as Take-Two Interactive Software (TTWO), have been cellar-dwellers this year. Take-Two--which develops games for PCs as well as for video-game platforms manufactured by Sony, Nintendo, and Sega Enterprises--hit 13 5/8 in early February but tumbled to 7 in mid-June. The stock may have touched bottom, say pros who have started buying in. The stock closed at 8 3/8 on July 13.
The upcoming big market for Take-Two is--what else?--the Web. Take-Two is developing a multiplayer online version of one of its popular Grand Theft Auto, which could be the first of many such products designed for PCs to be redesigned as video games. And the company recently acquired DVDWave.com, a retailer of digital videodisk (DVD) movies. "Shortly, video games will be added to the mix," says Bob DeLean, an analyst at investment firm Morgan Keegan. "We believe this is an important strategic move, considering the consumer demand for E-commerce," he adds.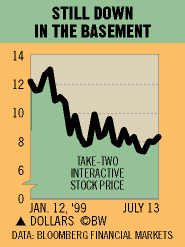 DeLean, who has a "buy" rating on Take-Two, thinks it may boost earnings at 25% to 30% annually over the next five years. He expects earnings of 62 cents this year and 80 cents in 2000, compared with 37 cents in 1998.
Take-Two CEO Ryan Brant says that, in 18 months, the company's Web business will generate some $30 million in annual sales and about $100 million in three years. Industry prospects have turned so rosy, says Brant, that the big media and toy companies that had bailed out years ago are considering jumping back into the business. Some may be looking hard at Take-Two.
Before it's here, it's on the Bloomberg Terminal.
LEARN MORE