A Flight To Small Caps?
More corporate action suggests a turnaround
Marcia Vickers
Wall Street is finally starting to think small. Small-cap stocks have suffered, falling 6.3%, from the beginning of 1998 through the first quarter of this year. But in the second quarter, the Russell 2000 stock index, which consists of small-capitalization companies, posted a total return of 15.55%, vs. 7.05% for the Standard & Poor's 500-stock index. And in June, for the first time this year, investors put more money into small-cap mutual funds than they took out, according to Minneapolis market researcher Leuthold Group.
Several analysts say it's the beginning of a turnaround. "Because the stocks are still relatively cheap on a valuation basis, investors are starting to notice," according to Mary Lisanti, chief investment officer for equities at Northstar Investment Management Corp.
BIG BUYBACKS. But the real precursor of a small-cap bull market may be the frenzy of corporate activity, including insider buying, in small companies. According to a study by First Call Corp. for BUSINESS WEEK, insider buying of small-cap stock has averaged two buys to one sell since last October. In the year prior to that, insider selling outpaced buying by a 3-to-1 margin. "Small companies are announcing share-repurchase programs left and right. It makes sense because while their earnings are strong, their shares are cheap," says John Buckingham, research director at The Prudent Speculator, a newsletter that follows small-cap stocks. Preston G. Athey, manager of the T. Rowe Price Small-Cap Value Fund, agrees: "The market's unwillingness to value the average small company at a fair price provides a rare opportunity for management to buy their own stock at bargain price."
But it's not just corporate insiders who are on a small-cap shopping spree. Large companies are snatching them up, too. In the past year, 17 companies in Athey's 210-stock portfolio have been the subject of takeover announcements by larger companies for stock or cash at prices averaging 30% above the market price before the merger was announced. "Large companies with high [price-earnings] stocks or cash are scooping up these small companies because the cost of borrowing is cheap and the cost of equity is cheap," says Athey.
According to a recent Merrill Lynch & Co. study, mergers and acquisitions among companies with market caps under $2 billion will be the highest in a decade. And M&A deals in companies with market caps from $200 million to $1 billion are expected to increase to 168 this year from 156 last year.
Perhaps most noteworthy, leveraged-buyout activity, when an investor group buys a company mostly with debt and uses its asset sales or cash flow to repay the money, is also increasing. There are 36 deals projected for this year, compared with one in 1998 (chart). "The only time you see LBO firms get involved is when the target companies are absolutely cheap," says Athey. "The LBO firm is borrowing money at around 9% to 11% to finance the buyout, and they've got to pay that back, so the deal has to make sense on its own merits." Five companies in Athey's fund are being taken over in LBOs.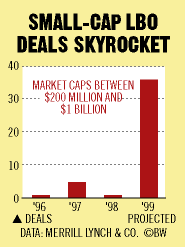 All this corporate action bodes well for the small-cap sector, say experts. "If the corporate deal flow continues, then there may be a resurgence of one of the most difficult components of the small-cap thesis--namely, small-cap value stocks," says Satya Pradhuman, director of small-cap research at Merrill Lynch. Some reasons: Investors who are looking for takeover premiums should start moving into small-cap value issues, and insider buying should continue to boost small-cap share prices. "Small caps need about a year of good performance before the big institutional money starts piling in," says Lisanti. Once that happens, the stocks should get a much-needed pop.
And that would be the biggest deal of all for small caps.