A Brisk Market In Babies...Sparks Action For Reform
Margaret Coker
The blonde, 22-year-old single mother felt she had only one option: Pregnant again, with few job prospects in her village in the Republic of Moldova and with no child care available in any case for her four children, she answered a newspaper ad promising a trip to Israel and cold cash in exchange for her unborn child. "I needed to feed my other kids. I was told he would be given to a good family, and that seemed better than a life in an orphanage," says the woman--currently serving two years in prison for trafficking a minor.
A black-market baby trade is flourishing in Russia and the former Soviet states, which use Moscow, with its international flights, as a transfer point to fly out expectant mothers. Investigators say the Moldova ring this woman fell into has sold at least 50 babies to American and Israeli families in the past two years, while a separate Moscow ring has sold 20 babies to American families, with each sale netting $20,000 to $30,000 per infant. These numbers, however, are dwarfed by the number of legal adoptions: Last year, U.S. citizens alone adopted some 4,500 Russian children.
"BLIND EYE." Still, illegal trafficking is a large enough business to have prompted an investigation at the U.S. Consulate in Moscow about how these pregnant women got to the U.S. and to have instigated Moscow's first prosecution. "People have turned a blind eye to this trade for years. Now, some feel the tide must be stopped," says Kiril Mazurin of the Moscow Criminal Investigation Dept.
The number of orphans living in Russia climbed to 482,000 in 1998, the highest level since World War II, while money to care for them has shrunk to 30 cents per child per day. Bad as these institutions can be, however, life beyond can be worse. Authorities report that 40% of the youths who leave such institutions at 18 end up homeless, 25% acquire criminal records, and 10% commit suicide.
Yet legal adoption is neither easy nor cheap. According to Russian law, the process should take about five months and should be free to citizens and foreigners alike. Reality, though, is much more complex. "If you want your child before he's an adult, everyone knows payments must be made [to local officials]--not once, but multiple times," says one Moscow representative of an international adoption agency. Fees to a licensed Western adoption agency, plus the expenses of traveling to Russia to meet a child, slicing through bureaucracy, and speeding legal proceedings, can reach $40,000.
If baby trafficking endangers the welfare of the child sold, it also harms children in institutions. The State Duma Committee on Women, Family & Youth Affairs is responsible for securing budget funds for orphans and programs targeting single mothers and needy children. Critics of the chairwoman, Communist Party Deputy Aleftina V. Aparina, say international adoption is her target of choice to whip up anti-American sentiment and raise her profile within the party. "She spends an inordinate amount of time on this issue while ignoring our efforts to expand programs," says Alexander Smuckler, a political lobbyist.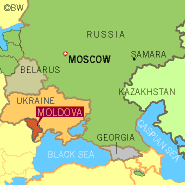 While the prosecution of the Moscow smuggling ring has been applauded by human-rights workers--those arrested included an ex- spokesman for the Duma International Affairs Committee--it's unclear how deep a dent the one case can make. A source at the Moscow investigators' office concedes that pressure brought to bear from U.S. authorities eager to stop the visa fraud perpetrated by the ring was instrumental in bringing about the arrest--and that conviction is still not certain. The publicity has fed the political backlash, including restrictive laws, against foreign adoptions in general, making U.S. officials wary. "We don't want to hurt kids," says one.
A long-term solution would be to develop national foster-care programs like those implemented by Konstantin Titov, the governor of Russia's Samara region. At the end of 1997, only 239 foster families existed in Russia. In one year alone, Titov signed up more than 500 families in his program--and saved about $5 million in budget funds.
Titov is rumored to be considering a run for President of Russia in 2000. If he wins, child-welfare officials hope change will come in time to save a half-million Russian orphans from a grim future.
Before it's here, it's on the Bloomberg Terminal.
LEARN MORE