You Can Go Home Again With A Raise
Businesses are going to unusual lengths to fill jobs
Richard A. Melcher
Three years ago, Jeff Cunningham, a 36-year-old technology consultant, left Iowa for Denver and a job that tripled his salary. But the Iowa State University graduate was beginning to tire of the Mile-High City when he received a pitch letter from the Iowa State president about what he was missing in Iowa. Cunningham and his family headed back to Ames, where they were greeted by neighbors bearing lemonade and cookies. Now, working at computer consultancy Cap Gemini America, Cunningham says he couldn't be happier. "This is a much better environment for kids, and there are a lot more jobs at higher salaries than a few years ago," he says.
Iowa's first-term Governor Tom Vilsack has only one question for Cunningham: Would he like to be cloned? Vilsack has been barnstorming the U.S. recently, looking for other twenty- and thirtysomethings who might have a soft spot for the rolling dales of Iowa. He has been speaking at high schools and colleges, and recently, he offered Iowa beef and Maytag blue cheese at Manhattan's Tavern on the Green to emigres. Marianthi Markatou, a 39-year-old statistician at Columbia University who once taught at the University of Iowa, accepted the invitation to sup with 850 other former Iowans in Central Park, but not the invitation to go back to the Midwest. "Iowa has a nice, interesting environment," she says. "But more opportunities come your way in New York or California." Vilsack remains undeterred: He simply can't afford not to be.
FREE BARBECUE. After two years of national unemployment below 5% and nine months below 4.5%, states and companies are in a mad, competitive dash to fill ever more jobs in an economy that won't slow down. States are reporting once-unthinkable unemployment rates--not only below 4%, but below 3%. Low population growth in the Midwest and New England and outmigration from the Great Lakes states have produced acute labor shortages. If the crunch spreads: "It will be a binding constraint on the economy's ability to grow further," says Mark M. Zandi, chief economist at Regional Financial Associates Inc. in West Chester, Pa.
This makes life difficult for officials like Robert Miller, Vermont's commissioner for the Economic Development Dept. He'd like to recruit some new employers to help the state's tax base, but it "would only exacerbate our labor market problem." If anything, Miller worries about defections as enterprises relocate to be near skilled workers.
Like Vilsack, other governors and employers from the tightest markets are fighting back with incentives aimed at enticing workers to move into their areas. For instance, Orlando-based Cypress Cos., operators of hotels and restaurants in the Southeast, is trying to entice candidates by promising that it will match or exceed current pay levels and extend such benefits as 401(k) plans to relatively new, low-paid hires. And on July 17, Denver's Regional Transportation District, in a desperate search for bus drivers and mechanics, will even throw a free barbecue and pay $50 to qualified applicants who show up. "We've got to be smarter, get up earlier, have a good benefits package, and do more for our employees to keep them," says Jasmine Richards, Cypress' vice-president of human resources. "Otherwise, I'm going to have to start building robots."
BIOTECH TRAINING. There are also bounties for employee referrals: At Pittsburgh software upstart CoManage Corp., with just 27 employees but a state unemployment rate of 3.8%, the going price for a new worker is up to $2,500. Medical device maker Medtronic Inc., facing competition from 100 companies in its Minneapolis home base, will pay up to $5,000 for hot job prospects in software development and has extended a menu of benefits to employees working just 32 hours a week.
Companies unable to tap traditional pools of labor are venturing further out of the mainstream. The last four engineers hired by Spring Engineering & Manufacturing Corp., an auto parts supplier in Livonia, Mich., were recent emigres from Eastern Europe who could barely speak English. Northern Ohio's Cedar Point couldn't fill its summer jobs with U.S. college students, so it turned to Europe. And corporations are also trying unusual techniques to reach workers. On July 5, Chicago area residents awoke to a Chicago Tribune encased in a red, white, and blue wrapper proclaiming, "Motorola has great jobs in Chicagoland."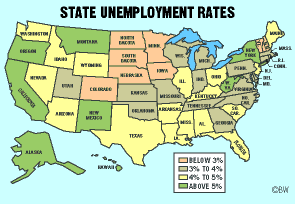 Most of these are short-term fixes. Longer-term, a number of private-sector employers and state governments are stepping up their efforts at structural changes. In Iowa and Utah, officials are working with private employers, high schools, and colleges to match future job needs and curriculum design. Iowa recently approved $2 million to support a new research center in plant sciences at Iowa State, while Virginia, hoping to woo semiconductor manufacturing, is spending millions to strengthen high-tech college education. Missouri and Pennsylvania have approved forgivable loans of several thousand dollars to students taking courses in growth areas like biotech and who agree to stay in-state for work.
Some companies already seem to be making headway. Pella Corp., a $700 million maker of windows and doors in tiny Pella, Iowa, has picked up a dozen new employees off the state's new job Web site. Of course, Iowa, and many other states, are not for everyone. But, what a change from the days when scores of companies were being furiously courted by states looking for new employers. Now, the battle is for people.