business
Why Italy Can't Ignore Pension Reform
By
When it comes to budgetary matters, Italy has a habit of postponing the inevitable: Once again, pension reform has been put off, but the debate is sure to heat up by the time the budget for fiscal year 2000 is due this fall.
The Document for Economic & Financial Planning (DPEF), Italy's four-year budgetary blueprint, projects 15 trillion lire ($8.3 billion) in deficit cuts for 2000, which would reduce the budget gap to 1.5% of gross domestic product, as set forth by the European Union (table). Because Italy will miss its 2% target for 1999 with an expected 2.4% deficit, the government must make more budget cuts than those planned to meet the 1.5% goal. The cuts must include spending reductions equal to at least 0.5% of GDP.
The DPEF, however, provides no specifics on where the cuts will come from, and it makes no commitment to pension reform. Cuts of that size will be difficult to achieve without touching Italy's generous and politically sensitive pension system, and intense wrangling with the unions seems unavoidable as budget season approaches.
The problem is compounded by Italy's need to support its ailing economy, the euro zone's weakest. This year's budget setback arose because 1999 growth is expected to be 1.3%, based on the DPEF, half of the government's earlier 2.7% projection. The DPEF expects growth to pick up to 2.2% in 2000.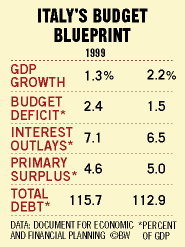 That forecast seems achievable. The chief drag has been a weak foreign sector, but now world growth is set to pick up, if only gradually. Also, first-quarter GDP was stronger than expected, rising 0.2% from the fourth quarter and 0.9% from the year before.
Solid first-quarter gains in consumer spending, construction, and business investment show that domestic demand is picking up in response to 1998 cuts in interest rates. First-quarter weakness was confined to foreign demand and a drawdown of inventories. Still, the new budget projections are tight, with little room for error on both growth and interest rates. Some give on the pension impasse will be needed.
Before it's here, it's on the Bloomberg Terminal.
LEARN MORE