business
Can Wit Outwit The Competition?
The online investment bank now faces a host of copycat rivals
Amey Stone
With the market again rewarding Internet initial public offerings, Wit Capital Group (WITC) counts for a stock and a half. That's because Wit, which pioneered online distribution of stock offerings, is not only an Internet IPO but also a play on the broader market for new Internet-related issues. Its stock, which was priced at $9 on June 4, limped along for a couple of weeks and then rocketed to a high of $38, settling down to 31 3/8 on July 6.
But Wit faces challenges. While its stock has been heating up, so has competition from new online investment banks such as E*Offering, W.R. Hambrecht, and Wedbush Morgan Securities' E InvestmentBank. There's also competition from other investment banks that distribute IPOs through their own online brokerage arms, such as Donaldson, Lufkin & Jenrette Inc., which offers IPO shares to large account holders at DLJdirect Inc. Also, Wit's strategy is to focus on Internet-related issues, so it could be doubly hurt by a cooling in that volatile sector.
So why the stellar stock performance? Analysts from Bear, Stearns & Co. and Thomas Weisel Partners--two firms that helped bring Wit public--issued recommendations on June 29, the day Wit came out of its quiet period. Wit also got a boost from a string of successful recent IPOs. Most notable, Wit was co-manager for Juniper Networks Inc. (JNPR), which began trading on June 24 at $34 and closed on July 6 at 139 1/2.
As one of the underwriters, Wit profits from each IPO, although the firm won't disclose its percentage and says fees vary depending on the deal. But because Wit doesn't act as lead underwriter--ceding that to such firms as Bear Stearns--it does not pocket the big underwriting bucks. "Our model is to handle the online retail distribution for those deals," says Susan Berkowitz, Wit's senior vice-president for marketing.
This year alone, Wit has participated in 54 public offerings--more than the 39 it did in all of 1998 and 1997. For the first quarter of 1999, its revenues were $3.9 million vs. $2 million for all of 1998. But its losses are also growing. The net loss for this year's first quarter was $4.9 million. For all of 1998, Wit lost $8.8 million.
Online distribution of IPO shares to average investors has been a bumpy road for Wit. In May, after investors complained about Wit's first-come, first-served method, it created a window of several hours in which all share requests are weighted equally. If an issue becomes oversubscribed during that period, Wit uses a lottery system. Wit's goal, says Berkowitz, is to make the process "fair and equitable" for investors.
Wit has some of Wall Street's big guns on board. Chairman and Co-CEO Robert H. Lessin was previously vice-chairman at Salomon Smith Barney, while the other Co-CEO and President, Ronald W. Readmond, was vice-chairman at Charles Schwab & Co. The Director of investment banking, Mark Loehr, had been head of equity capital markets at Salomon Smith Barney. And Goldman, Sachs & Co. bought a 22% stake in Wit in a deal announced on Mar. 29. Post-IPO, it owns about 13%. "Wit Capital has a wonderful stable of talent," says David Menlow, president of IPO Financial Network.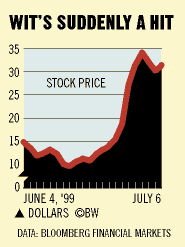 ROOM FOR MORE. But Wit's competition also has talent. E*Offering, which has a deal to distribute its IPOs to E*Trade (EGRP) customers, is run by Walter W. Cruttenden III, founder of investment bank Cruttenden Roth Inc. W.R. Hambrecht & Co. was launched by the co-founder of Hambrecht & Quist. It offers OpenIPO, which uses an auction process to sell shares.
DLJ recently began competing with Wit on Internet IPO underwriting through its DLJdirect subsidiary. "I think there will be many rivals from top-tier investment banks, but there is room for several players," says Brad Sinrod, president of IPO.com Inc., which provides free IPO information.
Wit should be fortified by the $79 million it raised in its IPO, making possible acquisitions and strategic deals. But in order to prevail in the fast-growing online investment banking arena, Wit will have to use all of its wits.
Before it's here, it's on the Bloomberg Terminal.
LEARN MORE