When The Jobs Just Disappeared
Jane Tanner
John Reeves pulls his red Chevy truck into the vast, empty parking lot at the idled Florida Coast Paper Co. mill where he was employed for two decades. Beginning as a laborer, he worked his way up to assistant operator, manning a control room for the steam boilers that generated energy to grind trees into chips, then boil and reduce them to pulp.
Just a year ago, the mill ran at full speed, sending an odor like rotten eggs throughout the tiny Florida Panhandle town of Port St. Joe. Reeves, 42, figured then that he had a job for life. Then last August, paper prices plummeted. Reeves was laid off. So were most of the mill's 500 employees--just seven remain. At year's end, with no price relief in sight, debt-ridden Florida Coast announced a permanent shutdown.
In April, it filed for reorganization under Chapter 11 of the Bankruptcy Code. Among its options are sale and liquidation. Reeves, president of Local 379 of the Paper, Allied-Industrial Chemical & Energy Workers International--the mill's largest union--wants to resurrect the mill. He is offering cuts in the number of workers, wage concessions, and flexible rules.
BITTER WORDS. Florida Coast, which bought the mill just three years ago from its founder, St. Joe Co., won't decide the mill's future until fall. Meanwhile, Reeves and his co-workers are retraining for a variety of jobs. Along with the rest of Port St. Joe, they are forced to come to grips with the end of a generations-old paternalism. They're hurt and angry that after years of dominating their lives, St. Joe Co. no longer feels responsible for them and has actually turned its back on the community. St. Joe Co. "sold us to the highest bidder and walked away," Reeves says bitterly. "Now, it seems they refuse to do anything to help."
Indeed, St. Joe Co., which founded the mill in 1938 and operated it until the 1996 sale, is opposed to reopening the facility. St. Joe now plans and builds upscale communities and doesn't want a smelly paper plant nearby.
Port St. Joe's problems go way back. Alfred I. duPont, a black sheep in the wealthy duPont family, moved to Florida in the '20s to make his own fortune and established St. Joe Paper Co. It became Florida's largest private landholder, with more than 1 million acres. St. Joe eventually had interests in forests, sugar, banking, telephones, and railroads. Under recent shareholder pressure, it dropped "Paper" from its name and went into resort development. Among holdings it dropped was the paper mill, which was sold to Florida Coast, a joint venture of Stone Container (later merged with Jefferson Smurfit) and Box usa. Under St. Joe, layoffs were rare, and when a unit was sold, workers got jobs with another. "We became addicted to having St. Joe take care of us," says Reeves.
That kind of paternalism was once common in industrial towns all over America, but it has now largely disappeared. St. Joe extracted a price for its benevolence. For decades, say old timers, no one could buy a house without the approval of Ed Ball, duPont's brother-in-law and St. Joe president from 1936 through 1982. To keep others from speculating on its real estate, St. Joe required buyers to build within a year or forfeit the property. It kept wages low by refusing to sell sites to companies that would compete for employees. "This town was a work camp. That was their mentality," says grocer George W. Duren, who donated 400 turkeys to the unemployed last Christmas. "It was counterproductive for them to allow growth."
That symbiotic relationship ended three years ago. Florida Coast didn't assume St. Joe's sense of responsibility for the town's 4,600 residents (out of Gulf County's 13,000). In December, county unemployment hit 21.7%, more than twice that of any other region of the state. It dropped to 13.6% in May, largely because many workers left town. Without the mill, county schools lose 28% of their local tax base. Already, the mill owes $5 million in back taxes.
The collapse was triggered by something no paper company could control--oversupply and slumping prices. It worsened when demand in Asia and Latin America fell last summer. "Generally, we have been in a booming economy, so most of the time when we have dislocations, we have opportunities nearby," says the state Labor Dept.'s Larry McIntyre, who distributes federal funds under the Job Training Partnership Act. Because of St. Joe's iron control, there were no other places for displaced workers to go. Even now, St. Joe shows no inclination to help. Community leaders want a deep water port, but they need cooperation from St. Joe, owner of 63% of county land. So far, St. Joe isn't interested.
That may be because most execs of the Jacksonville company are newcomers. Peter S. Rummel was brought in as chairman in 1997 from California, where he headed Walt Disney Co.'s real estate division. He and other officials decline to comment on Gulf County's crisis.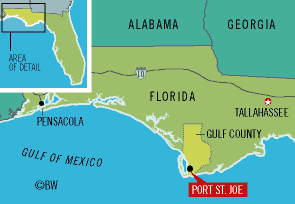 So former workers cope as best they can. Reeves, whose $275 per week in unemployment is a third of his old pay, will sell his house and buy a smaller one. After losing health-care benefits, he enrolled his daughter, who has Hodgkin's disease, in a state insurance pool. Four nights a week, he attends a community college. Classes are crowded with former mill workers. More than $800,000 in federal retraining money has gone to the area to refit workers for other jobs. "I had big burly men in flannel plaid shirts crying to me that they didn't know how to get a job," says Leigh Duggar, coordinator of the community college.
Reeves, who makes a little money refinishing furniture at home, is working toward a business degree. He hopes to pick up tips to help him in negotiations with Florida Coast. Meanwhile, he has become a teacher's pet. Instructors call on him with questions about layoffs and labor relations to give flesh-and-blood examples to textbook theories. Reeves obliges, but wishes he hadn't learned the stories the hard way.
Before it's here, it's on the Bloomberg Terminal.
LEARN MORE