At a time when most tech companies are under pressure, Philips Electronics (PHG), Europe's largest such outfit, is flying high on Wall Street. So far this year, its stock is up a nifty 45%, to 99. And investment manager Robert Lyon, who invests mainly in large-cap shares, sees Philips headed higher still.
Not many investors realize that Philips' semiconductor operation alone is worth $20 billion, or $57 a share, says Lyon, who heads Institutional Capital in Chicago, which manages some $13 billion. That business has expanded at a fast clip, partly through acquisitions, and is now the sixth-largest worldwide, notes Lyon. Intel and Texas Instruments lead the pack.
Some Philips investors have been applying pressure on management to take the semiconductor unit public through an IPO. "We don't know whether Philips will do it--to highlight and separate the underlying value of its semiconductors," says Lyon. But the hidden value is there, he adds, and could enhance shareholder value.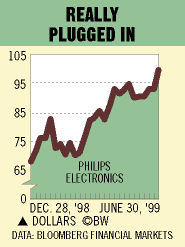 Lyon says that although Philips stock has been hot, the price doesn't reflect the intrinsic value of the company's assets. He notes that the combined value of Philips' stakes in other companies comes to $35 a share. This includes 27% of Taiwan Semiconductor Manufacturing, which trades on the Big Board with a market cap of $40 billion. Lyon figures Philips' interest is worth $11 billion, or $30 a share. Philips also owns 24% of ASM Lithography, worth about $2 billion, or $5 a share. Add to that the $57 a share for the semiconductor business, and the total comes to $92.
But that doesn't include the value of its basic electronics business, including lighting, consumer electronics, appliances, and personal-care products. What's it worth? A cool $11.4 billion, or $36 a share, figures Lyon. At a minimum, therefore, Lyon believes Philips stock is worth $128.
Before it's here, it's on the Bloomberg Terminal.
LEARN MORE