business
Making A Lunge For Swiss Army
By
Don't think for a minute that Swiss Army Brands (SABI) makes or markets military gear. The only battle Swiss Army may be fighting anytime soon will be for control of the company, which is the exclusive distributor of Forschner cutlery, along with other consumer products such as sunglasses, watches, and pens. And that battle could put upward pressure on its stock price.
All the products Swiss Army Brands carries are manufactured by Victorinox, Europe's largest cutlery maker--based in Switzerland. Victorinox is also the largest Swiss Army shareholder, with a stake it recently raised to 36%. Swiss Army is Victorinox' largest single customer. Victorinox' most recent stock purchase was in early April: It bought 700,000 shares--at $8 to $9 apiece--from Brae Group, led by U.S. venture-capital investors Louis Marx and Stanley Rawn. The stock, now at 8 25/32, is down from its 52-week high of 12.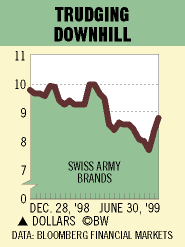 The betting on the Street is that Marx, 67, and Rawn, 71, may decide to sell Brae Group's remaining 24.3% stake in Swiss Army to Victorinox--but at a higher price. In the past, Victorinox paid as much as 14 1/4 a share in the open market for Swiss Army stock.
Investment adviser Charles LaLoggia expects Victorinox will make an offer of at least $15 for Swiss Army. In the meantime, Swiss Army has been busy repurchasing its own shares: It has bought back 400,000 shares, or 5% of total shares outstanding in the past year at an average price of nearly 9 a share.
Before it's here, it's on the Bloomberg Terminal.
LEARN MORE