business
Japan: Hot Growth Was Only A Mirage
The growth spurt in Japan's real gross domestic product in the first quarter took analysts and investors by surprise. But the surge looked questionable when put under the microscope, and Japan's economy remains quite fragile.
First-quarter real GDP jumped at an annual rate of 7.9%, the strongest quarterly gain in three years. But government spending soared at a 48% pace, a result of 1998's stimulus package. That accounted for about half the advance. And the seasonal adjustment process seems to make every first-quarter real GDP look strong even though the raw data show significant declines.
Real GDP is back to its level of early 1998. The key question is where it goes from here. The data so far in the second quarter show the growth spurt was not repeated in the spring, but that a recovery is taking hold.
The best news is that Japanese consumers, whose real spending grew 4.8% in the first quarter, continue to buy. Household spending rose an impressive 3.9% in May, the third rise in a row.
However, the labor markets are still in disarray. The jobless rate in May fell to 4.6%, from a record 4.8% in April, but most of the jobs created were only part-time. The job-to-applicant ratio dipped to 0.46 from 0.48. And real wages are barely above their year-ago level.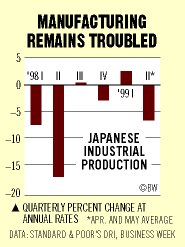 In addition, manufacturing remains in trouble. Industrial production unexpectedly fell in May, slipping 0.7% to its lowest level in five years. Output is on track to fall an additional 6% in the second quarter (chart). And the inventory-to-sales ratio rose again in May, suggesting factories will have little need to boost output levels over the summer. And housing starts were down in both April and May.
Policymakers have indicated that they will wait until fall to decide on assembling another stimulus package. If consumer spending keeps rising, they may opt against more pump-priming. Investors at least are betting that the recovery is real: The Nikkei stock index is up almost 27% this year.
Before it's here, it's on the Bloomberg Terminal.
LEARN MORE