business
Cell Phones For All Europeans
No-contract "prepaids" are driving explosive growth in Europe
By
Not long ago, only a billionaire or a fool would give a kid a cellular phone. With rates often topping $1 a minute, a teenager could yak away a good chunk of the monthly mortgage in a weekend. But stroll down the Champs Elysees in Paris and you'll see hordes of teens gathered outside music shops and ice cream parlors, most of them sporting colorful cell phones. Jessica Levy, 14, says hers was a gift from her mother six months ago. It was a way to keep in touch, Jessica says, and she does--but mostly with her friends.
The Levys aren't billionaires--and they're no fools either. Jessica and millions of other new cell-phone users in Europe, Asia, and Latin America are buying prepaid cards that give them $10 to $50 of phone calls. A computer chip in the phones, which sell for as little as $50, keeps track of the balance. In Europe, users add credit by purchasing a card at a news kiosk or a cafe. When they call the phone company and punch in the card's code numbers, the company sends a wireless message to the phone restocking the chip with time.
The concept is as simple as debit cards and has an equally simple appeal: Free of contracts or monthly bills, users can walk out of the store with a working phone--and keep it on a tight budget. Since local incoming calls are free in Europe, prepaid users can stay on the phone for hours if they want--as long as the calls they make are short and sweet.
Introduced in Portugal and Italy three years ago, prepaid phone cards are driving explosive growth in Europe. With 115 million users, it's the world's largest cell-phone market. According to Dataquest Inc., half of the region's 67% growth last year came from prepaids, and they account for two-thirds of this year's growth so far. Spain's Telefonica has added 1.2 million prepaid customers in the past six months--which brings prepaid users to 3 million, half the company's cellular market.
Riding the wave, mobile phones are reaching beyond their original business market to pensioners, housewives, and students. France Telecom has started marketing a prepaid cell-phone service designed for 7- and 8-year-old children. "The prepaid concept has revolutionized the market," says Dirk Bout, a senior analyst at Dataquest in Amsterdam.
IMPULSE BUY. The goal, clearly, is to put phones in the pockets, purses, and lunch boxes of everyone who can talk. It's plausible, analysts say. But to get there, Europe's phone companies must adapt to a new way of selling. Where they used to focus on business services, they're now waging battles in supermarkets and reaching out to customers with colorful phones, zippy packages, and TV ads. Market leaders, such as Italy's Omnitel and Germany's Mannesmann, are hiring new sales forces and learning to sell phones as if they were soap. "It's a fast-moving consumer product," says Marcel Rafart of Cluster, a Barcelona consultancy. "You want it packaged so people will pick up a phone when they're buying milk."
The prepaid market extends far beyond Europe, of course. Phone companies from Asia to Latin America use prepaids to reach out to credit-poor customers. In India, prepaids--which leave no paper trail for police or tax inspectors--grew so popular among smugglers and thieves that the government has cracked down. (They're also favored by execs carrying on love affairs.) Now, Indians must fill out forms and pay a surcharge before buying a prepaid service. Telefonos de Mexico's $92 "Amigo" kit, which includes a phone loaded with $10 worth of calls, has boosted prepaid service to 70% of its 2.5 million subscribers.
One notable laggard: the U.S. While the Federal Communications Commission is moving toward Europe's caller-pays scheme, today, American cell-phone users still pay for calls they receive, which dampens the entire market. Some U.S. companies, such as Omnipoint Corp., have made a go of prepaid cards, but the prepaid market remains marginal. Even so, Britain's Vodafone Group PLC, which bought San Francisco-based Airtouch Communications Inc. in a $62 billion deal in January, is searching for schemes to market prepaids in the U.S. American rivals, from AT&T to Sprint, keenly aware of Europe's growth, are preparing prepaid promotions, too.
When prepaid phones hit the shelves in Europe, the idea was simply to round out the market by tapping cash-poor customers. Companies offered them cheap rates at night and on weekends--when core business users weren't talking. But the prepaid market took off--first in Italy and Portugal, where wired service is often backward and costly. Phone execs soon discovered that huge sectors of society were eager to go mobile if they could skip contracts and safeguard their bank accounts. Suddenly, Southern Europeans who had to wait months for phone lines simply picked up a cell phone. And with barely any prodding from marketers, customers were giving phones on Christmas and Mother's Day. Italy's prepaid surge has turned it into Europe's largest wireless market: 20 million users, of which almost two-thirds are prepaid customers.
It's a boon for phone companies--but it's not without complications. To encourage people to make calls, Portugal's TMN is offering free time to those who get a lot of calls. Suddenly, phone companies are serving a vast crowd of users --many of them young people--who are eager to scrimp. "They're thinking they'll get calls for free on their cellulars," gripes a Spanish telco exec.
TOO SWEET? Providers give prepaid services brand names, from Telefonica's Activa in Spain to Mannesmann's CallYa, so teens won't associate the service with the staid subscription business. They are also working with manufacturers to produce colorful, low-cost phones. But without contracts and credit checks, the companies know virtually nothing about their customers--not even their addresses. That makes marketing doubly hard. The only line of communication--you guessed it--is the phone.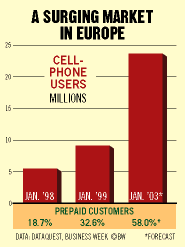 The risk is that by making prepaid deals too sweet, companies will lure customers away from more profitable contracts. To beat this problem, most companies keep prepaid rates punishingly high during business hours. In Spain, they can be six to seven times higher than off-peak rates. Still, all this competition, even from their own prepaids, forces them to keep lowering contract rates, at a pace of 15% per year. That lowers margins, and the only way to battle back is with customer growth.
How long can providers sustain the prepaid trend? Maybe too long. Many phone companies, eager to know their customers--and to bill them--hope to graduate prepaid customers to contracts. But if Europe's raging prepaid market tells them anything, it's that the growing hordes of prepaid customers are thrilled to avoid contracts and monthly bills. Sign up? Many would just as soon wire their cell phones to the wall.
Before it's here, it's on the Bloomberg Terminal.
LEARN MORE