business
As Farmers Sell Out In Secret...Budapest Asks For A Break
By
Arpad Dorogi traipses through a field of fat green stalks of wheat wetted by a soft June rain. This land near the village of Sopronhorpacs was given to his family by Hungary's government in 1991, compensating them for suffering his father endured as a prisoner of war in World War II. In addition to wheat, his 110 hectares are bursting with rapeseed, sugar beets, and corn. But Dorogi, 39, the financial director of a nearby research center, isn't much interested. "I don't want to be a farmer," he sniffs. "Ever."
About 80% of Hungary's farmland is now in the hands of private citizens. But like Dorogi, who rents his land to a German farming company, hundreds, maybe thousands of landowners here lack either the interest, capital, or both to turn small farms into prosperous ventures. The problem is so acute that officials say as much as a quarter of cropland in some western counties has been sold to foreigners under secret--and strictly illegal--"pocket contracts." In Gyor-Moson-Sopron County alone, officials estimate that some 100,000 hectares, worth more than $40 million, have changed hands this way.
But instead of loosening a ban on foreign ownership that has slowed the modernization of Hungarian agriculture, the government of Prime Minister Viktor Orban in March proposed a program for subsidizing the purchase and resale of farmland to committed domestic farmers. And to make the long-term plan viable, it has asked the European Union to give Hungary 10 years, once it has joined the union, before it must allow foreign ownership. Hungary is expected to join in 2005 or 2006.
Since 1994, three administrations have prohibited the sale of farms to foreigners out of fear of price shock. The sudden influx of buyers, they say, would shut native farmers out of the market and drive up inflation. But that hasn't stopped the inventive from dealing land secretly.
A pocket contract typically involves three agreements. The first is a legal lease granting the foreigner, usually a company, use of the land. The second, which probably is legal but is as yet untested, grants the company an option to buy at a set price as soon as foreign ownership is allowed. The final pact, unwritten and illegal, has the company paying the option price up front.
Although such deals are risky, foreign buyers are plentiful because the land is, well, dirt cheap. According to the Agriculture Ministry, the average price of cultivated land in Hungary is $410 per hectare, compared with $3,200 in France and $14,700 in Holland.
BAD ECONOMICS? The government's new plan calls for a National Land Fund that would buy up farms at the market rate and resell them to young, professional farmers with generous financing. This, says Laszlo Jojart, state secretary in the Agriculture Ministry, would allow prices to rise gradually and give Hungarian farmers a long-term chance. He denies that nationalist politics have played a role: "This is not an issue of discrimination against foreigners."
But no matter the motivation, critics claim the plan is poor economics. Laszlo Zacher of the Economic Research Institute in Budapest admits liberalization could boost inflation but claims the program will only perpetuate the inefficiency of small, undercapitalized farms. "Let the market find the best solution," he says.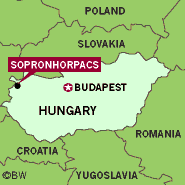 Hungary's National Land Fund will, in any event, only be given a fighting chance if the government can persuade the European Union to bend its rules. The EU does not allow member countries such heavy-handed investment restrictions as Hungary's ban on foreign ownership of farmland. So when Hungary joins the club, foreigners will be able to buy all the land they want, unless Budapest is granted its request for a delay.
That's not the only bartering going on with the EU. Accession talks are under way, and they're shaping up as a horse-trading session, with free movement of labor, short-term capital controls, pollution measures, and consumer protection guidelines all open to negotiated phasing-in periods. So foreigners eager to snap up cheap farmland legally in a few years will have to wait and see which horses the EU decides to trade.
Before it's here, it's on the Bloomberg Terminal.
LEARN MORE