All Set To Make A Profit On Paper
by
Paper stocks continue to crackle, thanks to the improving markets for pulp and wood products--and to recent industry takeovers. With Weyerhaeuser agreeing to acquire Canadian paper producer MacMillan Bloedel, some pros are rushing to accumulate shares of other paper companies they believe would be among the next targets. One such stock is Pope & Talbot (POP), a manufacturer of lumber, pulp, and pulp chips.
One California money manager who has been accumulating shares says that Georgia-Pacific Group and Champion International have "looked at the books" of Pope and have expressed an interest in the company. With a market value of just $155 million, based on its current stock price of 11 1/2, "the stock is an easy buy for one of the paper-and-forest-products majors," says this pro, who thinks the stock, with an estimated book value of more than $11 a share, is worth $20 a share.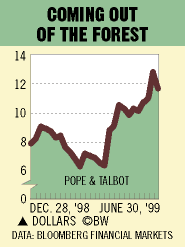 Analyst Linda Lieberman of Bear Stearns describes Pope as a "small-cap pulp and lumber play with a lot of operating leverage." With pulp prices on the rise, she has raised her second-quarter earnings estimate to 3 cents a share, vs. a loss of 10 cents. This would be the first time in six quarters that Pope will earn money, she notes. She has raised her full-year 1999 forecast to just breaking even--up from a loss earlier of 22 cents. For 2000, she expects Pope to earn 50 cents a share. Georgia-Pacific declined comment as a matter of policy. So did Pope and Champion.
Before it's here, it's on the Bloomberg Terminal.
LEARN MORE