Web Hotel Business: Wings For Pegasus
By
Like most of the erstwhile high-flying Internet stocks, Pegasus Systems (PEGS) has taken a sharp hit. The company, which dominates the market for online hotel reservations, went public in August, 1997, at 13 a share and rose to nearly 50 by May 3, 1999. It has since fallen to 32. Not to worry, say analysts--who predict the stock will soon exceed its old high.
Here's why: Unlike most Internet companies, Pegasus makes money, trading at 33 times estimated 2000 earnings of 95 cents a share. Bear Stearns analyst James Kissane says that, given Pegasus' strong revenue growth and prospects for margin expansion, Pegasus could grow much faster than the average computer-service company over the next several years.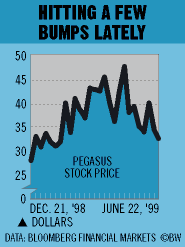 He expects Pegasus earnings to rise by at least 40% annually over the next several years. "Pegasus is the premier provider of transaction processing and E-commerce services to the hotel industry," says Kissane.
Pegasus CEO John Davis says the accelerating trend toward online hotel bookings is the key engine for the company's growth, generating 42% of its revenues. The upside potential to online bookings is huge, says Davis, since only 11% of all hotel reservations, so far, are done through the Web. In all of 1998, Pegasus booked 750,000 Internet reservations. In the first quarter, Pegasus has booked 360,000 online reservations.