business
U.S.: The Good News: Exports Are Up. The Bad News: Exports Are Up
Stronger foreign demand may put pressure on U.S. prices and wages
By
With Federal Reserve Board Chairman Alan Greenspan dominating the economic news recently, you might have missed an interesting development in the April data on foreign trade: Exports posted their first increase in six months. It's a clear sign that after nearly two years in dire straits, economies outside the U.S. are getting back on their feet. And it's not just the financial markets that are stronger. Foreigners are starting to buy more goods and services.
However, rising foreign demand is not all good news for the U.S. In fact, it plays right into Greenspan's fears about red-hot domestic demand. Sagging exports and a widening trade deficit have been a safety valve for the U.S. economy. They have offset some of the potency of U.S. spending by consumers and businesses, thus venting the extra price and labor-market pressures that such demand would otherwise have created.
Consider that, although domestic demand grew 5.7% over the past year, the fastest yearly clip since 1984, the economy has grown at a slower 3.9% pace. That's because the wider trade gap subtracted from overall growth, and the softness in exports depressed manufacturing, helping to slow inventory growth.
The problem is that, based on his June 17 testimony before Congress, Greenspan believes that the economy's maximum noninflationary growth is currently about 3%. If the drag from trade is lessening, then that puts increasing pressure on domestic spending to slow down. If it doesn't, then a quarter-point rate hike by the Fed--now almost universally expected on June 30--may not be the last.
TO BE SURE, FOREIGN TRADE was a continuing drag on growth in the second quarter, but stronger global demand means that the drag will lessen. The April trade deficit, including goods and services, held steady at March's gap of $18.9 billion, only a bit wider than February's $18.5 billion deficit (chart).
Adjusted for inflation, the April merchandise deficit was much larger than the first-quarter average, suggesting that the widening trade gap is likely to cut more than a percentage point from second-quarter economic growth. Still, that would be less than the 2.4 points it subtracted in the first quarter, and the drag in the second half should diminish further.
The 1.2% increase in April exports was broad, including gains in shipments of autos, consumer goods, capital goods, and raw materials. Adjusted for inflation, overall merchandise exports advanced a solid 2.9% in April, and they have grown 7.8% from a year ago, the fastest annual growth rate in more than a year (chart).
It should not be surprising that the export turnaround coincides with the recent gain in manufacturing output. Excluding autos, to eliminate the effects of last year's strike at General Motors Corp., factory output in the second quarter is growing at the fastest quarterly pace in a year and a half.
MOST IMPORTANT, EXPORTS to all Pacific Rim countries are up 2% from a year ago. Last summer, Pac Rim exports were 20% below their year-earlier level. Stronger growth in Korea, along with nascent recoveries in nearly all the Southeast Asian countries, all buoyed by continued solid growth in China, are lifting demand for U.S. goods. Most analysts believe that the surprisingly robust first-quarter growth reported by Japan was a statistical fluke and, while not signaling a recovery, it may mean the worst is past.
The only real problem area for U.S. exports right now is Latin America, where the lagged effects of Asian contagion are playing out. U.S. shipments to Mexico are about flat from a year ago, but exports to the rest of Latin America are still down a steep 15% from this time last year, mainly reflecting recessions in Brazil, Argentina, and Chile.
Exports to Europe in April rose 8.5% from a year ago, a pickup from the annual pace in recent months. Stronger growth in Europe will boost U.S. shipments in coming months, especially since all of Western Europe accounts for 25% of U.S. merchandise exports. The preliminary report on euro zone gross domestic product showed growth at a sluggish annual rate of 1.6%, yet the showing was a bit better than expected. Moreover, based on GDP data, especially in Germany, first-quarter domestic demand in Europe rose strongly, while overall growth was dragged down by foreign trade and inventory liquidation.
Looking to the second half in the euro zone, the drag from trade will ease, and with inventories exceptionally lean, some restocking will boost production. Also, domestic demand should keep picking up, given recent gains in measures of consumer and business confidence. New strength in German manufacturing orders and industrial production reflect the general trend of euro zone improvement, which is bolstered by low interest rates and a favorable exchange rate.
THE TROUBLE WITH U.S. TRADE will continue to be on the import side of the ledger. Despite the strong export showing in April, imports rose by just as much, reflecting booming U.S. demand and a strong dollar. Higher oil prices inflated the value of April imports, but even adjusted for inflation, spending on foreign goods increased sharply.
Without some cooling in U.S. demand, import growth will not slow anytime soon. Greenspan noted especially the impact on demand growth from wealth gains arising from stock values and home prices, saying that increased wealth had accounted for about 1% of the economy's 4% growth rate. He also said that even if the rapid growth in capital gains ends soon, there is still enough such stimulus in the pipeline to support outsized demand growth for months to come.
Reflecting ever-rising imports, which now account for about a third of all nonoil goods purchased in the U.S., protectionist pressures have surfaced this year. Most recently, on June 22, the Senate by a vote of 57 to 42 defeated a bill, passed by the House of Representatives, that would have slapped quotas on imported steel--an act contrary to international trade statutes.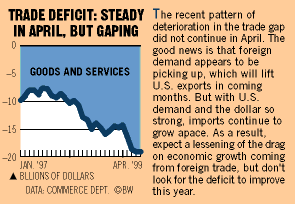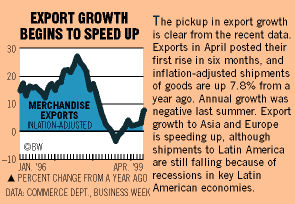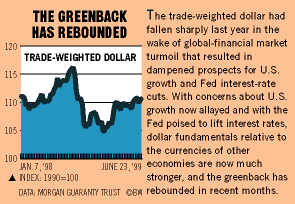 In addition to seemingly irrepressible U.S. demand, a strong dollar will continue to draw in foreign goods. After plunging 11% from last August to mid-January, following last fall's market turmoil and Fed rate cuts, the trade-weighted greenback has regained 7% of that drop (chart). If the Fed makes more than one hike in U.S. interest rates, further dollar strength is likely, since the rest of the world will not be in a position to match any U.S. increases anytime soon.
The problem is that, despite the faster growth in exports in the months to come, ever-rising imports will prevent any significant improvement in the trade deficit this year. But the drag will lessen, and that will mean a smaller safety valve for pressures on U.S. prices and wages.
Before it's here, it's on the Bloomberg Terminal.
LEARN MORE