business
Strong Kick At Ivax
By
Forget the old IVAX, advises drug analyst David Saks of Gruntal. But go, he says, for the revamped IVAX (IVX)--which has sold off assets, reenergized profits, and come out with a bulging pipeline of proprietary drugs, including delivery technologies for cancer and asthma remedies. IVAX produces generic and branded drugs. The stock has yet to reflect the company's "new positive attributes," argues Saks.
Most medical stocks have been beaten down this year. But Saks predicts that IVAX, now at 13 13/16, will hit 18 in a year and 40 in three. Moreover, "IVAX could be attractive for a possible takeover," given the company's fundamentals and the stock's low price, he adds.
Harvey Eisen of Bedford Oak Associates says that after two failed merger attempts, IVAX has become an even more attractive target. "IVAX CEO Phil Frost is the kind of guy you can depend on to seize an opportunity to boost shareholder value," he adds.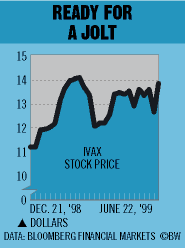 IVAX has alliances with several pharmaceutical companies--any of which could be interested in IVAX, says Eisen. IVAX markets the only generic version of Clozaril, a Novartis schizophrenia drug. And IVAX plans to roll out generic versions of Taxol, Bristol-Myers Squibb's anticancer drug. IVAX has also licensed Easi-Breathe, its patented inhaler technology, to Glaxo Wellcome. CEO Frost wouldn't comment on buyout speculation but says IVAX is "poised to become a global leader," with many of the 50 products under development coming to market on a regular basis.
Gruntal's Saks thinks sales at the rebooted IVAX could leap 65%, to $1 billion, by 2001. And he sees earnings jumping from 20 cents a share in 1998 to 40 cents in 1999, 60 cents in 2000, and 85 cents in 2001. Some insiders believe IVAX will beat those estimates.
Before it's here, it's on the Bloomberg Terminal.
LEARN MORE