Spain: Growth Has Joblessness On The Run
By
As the euro zone's heavyweights struggle to create jobs, Spain has become a growth leader in employment and overall economic performance. After 4% in 1998, the economy grew 3.6% in the first quarter of 1999. That is twice the pace of the 11-nation euro zone, and it puts the government's target of 3.8% for the year within reach (chart).
Strong growth will allow further progress in reducing the euro zone's highest jobless rate. Spain's unemployment rate fell from 18.17% in the fourth quarter to 16.97% in the first, the lowest in seven years. The drop was helped by new recordkeeping that is closer to euro zone standards. Also, Spain has a lot of employees who want to work more hours. Still, the fall was the twelfth in a row, and the economy has already added 161,000 jobs this year, half of the 1999 government projection. In 1998, Spain generated half of the job growth in the 15-country European Union.
Job growth has been spurred by record low interest rates, a result of cuts from high levels to assure euro zone convergence. Low rates are fueling domestic demand, especially consumer spending and construction. Business investment is also gaining.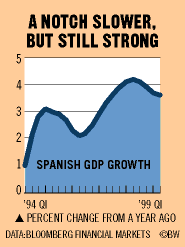 Still, global weakness is depressing exports, and that's why job growth is expected to slow a bit in the second half. Even as construction, agriculture, and services, especially tourism, post solid growth, manufacturing jobs fell in the first quarter, and growth in April industrial production slowed to only 1.2% from a year ago, as Asian weakness has spread to key Latin American and European export markets. Another record year for tourism is helping to offset some of the export weakness in the foreign-trade accounts.
Strong growth is generating mild concern about the pickup in inflation to 2.2% in May, above the 2% target set by the European Central Bank for euro zone countries. The zone average is 1%. The government plans to cut prices in regulated utilities, likely to be followed by efforts to reform pricing in retail distribution and certain services.