Oec Could Get Back On The Beam
By
Watch out for new sizzle at OEC Medical Systems (OXE), a leader in computer-based instruments, primarily X-ray and fluoroscopic imaging systems. Some big stakeholders aren't too happy. The stock has been on the ropes: down 27% this year, to 22. Not even OEC's announcement in May--that it has developed a "breakthrough product" in imaging systems--bolstered the price. What to do?
Some big shareholders are said to be in talks with an investor group interested in taking an active role in OEC. A year ago, one big stakeholder was approached by a medical-device company offering to buy his holdings. This investor declined the offer; the stock was then at 30. He believes OEC is worth 40. This time, he may be tempted to do a deal with another group.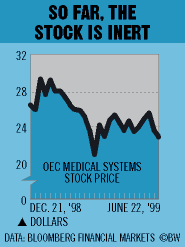 William Harnisch of Forstmann-Leff International, which has a 25% stake in OEC, declined to comment on whether he has had an offer for his holdings. Rumors are that a large medical-device company has been in touch with Harnisch. Fidelity holds about 7% of the stock. Neither OEC Chairman Ruediger Naumann-Etienne nor CEO Joseph Pepper would comment on whether the company had been approached. "We're working closely [with one of our big holders]" for another institution to buy his stake in the company, says Pepper. Adds Naumann-Etienne: "We'll keep developing new technologies and products, and continue to buy back our own shares."
Analyst Vincent Colicchio of Southwest Securities, who rates OEC a buy, has increased his price target for the stock from 28 to 31, based on his fiscal 1999 operating earnings forecast of $1.43 a share. He expects $1.70 in 2000.