More Bad News For The Wiseguys?
New indictments on Wall Street-and now a murder angle
By
It was a one-two punch against the mob on Wall Street. Punch one came on June 16, when a federal grand jury in Brooklyn handed up highly publicized indictments charging 85 defendants with multiple counts of stock fraud and racketeering. Punch two came the next day in Tampa: a 19-count federal indictment charging five other defendants with stock fraud and racketeering. The little-publicized Tampa indictment was far smaller in scope. But for Wall Street's mob contingent, it was an even more stunning blow.
For one thing, the feds in Florida landed far bigger game than the motley assortment of brokers and alleged mob associates nabbed in Brooklyn. Among the Tampa defendants is Philip C. Abramo, identified in the indictment as a capo in the DeCavalcante organized crime family. In a Dec. 16, 1996 BUSINESS WEEK Cover Story, Abramo was characterized by Wall Street sources as one of the most powerful reputed mobsters on Wall Street. Also indicted was Abramo's brother-in-law, Louis Consalvo, who is identified in the indictment as a DeCavalcante soldier. The National Association of Securities Dealers lists Consalvo as the holder of Series 24 and Series 63 supervisory licenses--making him probably the first person ever to simultaneously hold an alleged membership in organized crime and an NASD brokerage license.
Moreover, the Tampa indictment contains a grisly element--murder.
As portrayed in the Tampa indictment, Abramo was the kingpin of an archetypal "pump-and-dump" scheme. He is accused of controlling the New York office of a now-defunct brokerage, Sovereign Equity Management Corp., that allegedly sold vastly overvalued stocks to the public. The indictment names three stocks--SC&T International, Alter Sales, and Total World Telecommunications. SC&T and Alter officials could not be reached. A Total World spokesman says that it has new management and is cooperating with authorities. The companies were not charged in the indictment.
FACING JUSTICE. Sovereign's former chief operating officer, Glenn T. Vittor, was indicted. So was a barred stockbroker named Philip Gurian, who was allegedly a hidden control person of Sovereign--where Consalvo was on the books as a supervisor. Also facing justice in Tampa is a 35-year-old former penny-stockbroker named Barry Gesser, whose palatial home in Bedford, N.Y., was the subject of a color spread in the May 20 edition of The New York Times. Identified as a "hedge fund manager," in the article, Gesser is described quite differently in the indictment: He allegedly had a central role in the pump-and-dump scheme. Attorneys for Vittor, Gesser, and Gurian declined comment, and attorneys for Abramo and Consalvo did not return phone calls.
According to the indictment, Abramo & Co. themselves were ripped off--which prosecutors believe led to murder. The indictment says that in February, 1996, $1.7 million was transferred out of an account Abramo allegedly controlled in the Bahamas. The following December, a Bahamian woman who was a signatory on the account, Joy Cartright, was murdered in her sleep with two gunshot wounds to the back of her head. At a hearing for Abramo on June 22, Federal Bureau of Investigation agent Kelly Thomas testified that Bahamian police concluded, after an "exhaustive investigation," that the money's disappearance was the reason for the murder. However, the indictment does not allege complicity by any of the defendants.
The indictment does allege that the Cartright murder was later used as an object lesson. It asserts that last February Gurian told a Total World official that if he told the truth to the FBI he "would end up like Joy Cartright."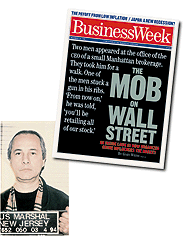 Gurian could not be reached for comment. Indeed, the feds say they have had trouble reaching Gurian as well. Assistant U.S. Attorney Kevin R. March says Gurian has yet to surrender to authorities. One FBI agent involved in the case says that Gurian "has fled and is now an international fugitive." Gurian's lawyer declined comment on his client's whereabouts.
Gurian, of course, may simply be a bit slow in getting his affairs in order. That's understandable--he and the other defendants face up to 20 years in prison if convicted. The potential sentence is a far cry from the civil penalties and wrist slaps that often faced securities crooks in the past. Perhaps not as persuasive as a couple of bullets in the back of the head. But an object lesson nevertheless.
Before it's here, it's on the Bloomberg Terminal.
LEARN MORE