business
A Standoff Over Aging Nukes...Has A Lot Of Workers Shook Up
Ariane Sains
Viktoras Valentukevicius is a man in the middle. As vice-minister in Lithuania's Economy Ministry, Valentukevicius is charged with overseeing the Baltic country's energy sector, which means keeping the world's two biggest Chernobyl-type nuclear reactors running at Ignalina, in a rural area of the southeast. But if he does his job, Valentukevicius knows that Lithuania will be shut out of European Union membership. "We have to comprehend the uneasiness of the European countries about nuclear safety, because they know the consequences of the Chernobyl accident," he says. "If the reactors are unsafe, we will shut them down." He adds that research into how long they can continue to operate safely won't be complete for a few years.
There's no dispute that the two 1,500-megawatt reactors, which first went into operation in 1983 and 1987, are among the most unwelcome legacies left to Lithuania by the Soviet Union. But there's little agreement between Lithuania and the West about how to handle that legacy. And Lithuania's stance will determine whether or not the nation begins accession talks with the EU in December.
BLACKMAIL? EU and European Commission officials are pushing hard for an almost immediate shutdown of the reactors, which they say will never be able to meet Western safety standards. No shutdown, they say, no membership. But the Lithuanians say that thanks to technical help from other countries, notably Sweden, the reactors are now as safe as older Western reactors. They charge that the shutdown demand amounts to blackmail. And they say they were naive in 1994 when they agreed to the terms of a $36 million grant from the European Bank for Reconstruction & Development for safety improvement.
In exchange for the money, the Lithuanian government agreed not to replace the reactors' fuel channels when they wore out. At the time, it was generally thought that meant they would have to stop operating early in the next century. But with that time fast approaching, some experts say the first reactor shouldn't run past 2001, while people at the plant say it'll be safe until at least 2005.
About 80% of Lithuania's electricity comes from Ignalina. Officials say the country can't afford to pay for replacement power, which would cost about twice as much as nuclear. Even worse, they say, the power would be produced by older plants burning heavy oil or natural gas, increasing Lithuania's share of greenhouse gas emissions. Nor can Vilnius afford the estimated $2.5 billion to $3 billion to shut Ignalina, and the EU hasn't offered to help.
Others say that regardless of how much safety is improved, Westerners have a blind spot about Ignalina because of Chernobyl. "It's a bad joke to shut down a plant that's at least as safe as Western plants," says Andrius Bagdonas, who's responsible for calculating the risk of accident at the plants. But Europe seems unwilling to budge. "We don't want to start a debate about nuclear safety," says Loris Rossi, principal administrator with the EC's Directorate-General for Energy. "We want the plant shut."
While politicians debate closing Ignalina, the plant's 5,000 workers worry about their jobs. Dozens came to Vilnius in May demanding to know how the government plans to take care of them when the reactors are shut. Valentukevicius says that "social consequences are out of the province of energy experts," but points out that the government has a task force studying the implications of closing Ignalina and the possibilities for retraining and relocating its workers.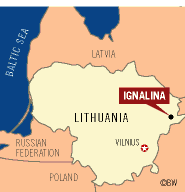 Finding them new jobs is complicated by the fact that virtually all are native Russian speakers, sent en masse from various parts of the old Soviet Union, who don't know Lithuanian. They have spent their working lives in the Russian enclave of Visaginas, a town of 32,500 built by the Soviets to support plant staff and their families. Gennady Zheltobriuch, the fiftysomething director of Ignalina's safety services division, estimates that at least 70% of the workers are in for a tough time if the plant closes. "If you are a young person, that's one thing," he says. "You can change jobs, change country. I can't do that." And worrying about job security, he notes, is not good for safety.
Before it's here, it's on the Bloomberg Terminal.
LEARN MORE