Will Build To Suit...Eventually
New-home construction is taking a pounding
Stephanie Anderson Forest
When Anna Cobb signed a contract in May, 1998, to have a Dallas developer build her $234,000 dream house in nearby Coppell, she expected to move in by October. Instead, after chronic construction delays, including changing project managers three times and wrangling with the developer over poor workmanship, she finally moved in this May--seven months late. "It's been a nightmare," says Cobb, a widowed mother of two.
Like Cobb, a growing number of new-home buyers are facing unexpected delays as developers struggle to keep up with the roaring demand foR new houses--and for almost everything else, from offices to factories to rehabs. As the nation enters peak building season, the impact on the overworked construction industry is becoming clear: On both coasts and most places in between, builders are reporting that they can't find some key materials or enough skilled labor to build homes.
MINIFLATION. As a result, everything is taking much longer (chart) and costing much more. The shortages have been so profound as to cut into the number of homes built: The Commerce Dept. reported on May 18 that housing starts in April dropped a stunning 10.1%--the biggest monthly decline in more than five years--partly because the labor and materials weren't there to build them.
With demand unquenchable and supplies limited, prices to everyone have been shooting upward as well, creating a mini-inflation boom. For the builders and subcontractors, prices on raw materials and labor have shot up, on average, between 15% and 20%. "I've never seen it this bad," says Eduardo Stern, vice-president of Miami-based LandStar Homes, which has seen the price it pays for sheetrock more than double, from $10 to $21 a board, since January.
For buyers, prices on new homes have jumped 3.7% since the first quarter of last year. Frustrated with the new-home logjam, more buyers are turning to existing homes, pushing sales and prices in that market far ahead of projections. In both March and April, the annualized sales rate on existing homes passed 5 million units, and real estate experts predict that prices could be up 6.3% by the end of the year.
There's no relief in sight. In the next couple of months, in fact, supplies of materials and carpenters could be strained as communities in Oklahoma and Kansas set about replacing some of the nearly 10,000 homes destroyed by tornadoes in early May. "It's going to be tough," says David Seiders, chief economist for the National Association of Home Builders. "Here we are with dramatic shortages that are causing bottlenecks when we need to be producing in large quantities."
But as bad as the double-digit price hikes for materials such as sheetrock and insulation are, the biggest headache for builders is finding skilled labor. "Subcontractors are in such huge demand, they get what they ask for," says Scott Colwell, owner of Hoover Realty Trust and vice-president of the Builders Association of Greater Boston. For their part, subcontractors, who are hired to do everything from digging and pouring the foundation to painting the walls and hanging wallpaper, must also mount multistate searches to fill their crews.
But in this low-unemployment economy, many of the workers who might have opted for this lucrative, seasonal work are comfortably placed in year-round office positions. To get crews, subcontractors are raising wages--20% so far this year, according to Colwell.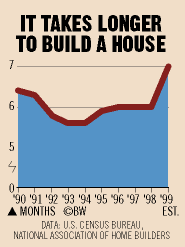 The worker shortage has left many in the industry worried that the situation could lead to shoddy construction by less-skilled craftsmen. Indeed, in a recent NAHB survey, 80% of the builders expressed concern about the quality of available skilled labor. "When you're as shorthanded as our industry is, you do bring unskilled workers in," says Daniel J. Bennet, president of the National Center for Construction Education & Research in Gainesville, Fla. Bennet's group has helped contractors recruit and train about 500,000 new workers since it began in 1995.
"The labor market is the No. 1 issue facing builders," says Steven B. Alloy, president of Stanley Martin Cos., a homebuilder and subcontractor in Reston, Va. "There has to be quality control." Without it, even the most flush buyers may think twice about paying today's high prices for a new home.
Before it's here, it's on the Bloomberg Terminal.
LEARN MORE