Why Lightbridge Could Light Up
by
Pat Farley follows software companies at Kopp Investment Advisors, a $3 billion money-management firm that specializes in small-cap outfits. One of Farley's top picks nowadays is an obscure, and very small, specialty software company called Lightbridge (LTBG). He feels that Lightbridge, with a mere $150 million market capitalization, is an undiscovered gem.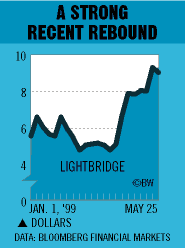 Among other things, Lightbridge makes fraud- management software for telecommunications carriers, to make sure that phone companies don't have any glitches when they "activate" new customers. How's that for specialization? Farley notes that the market has been immune to Lightbridge's charms. One reason is a bit of bad luck in the first quarter of 1998, when Lightbridge shares plummeted 20% in one day, from 18 1/8 to 14 5/8, after the company said first-quarter earnings would fall short of expectations. Shares in the Burlington (Mass.) company have rebounded this year, but Farley believes the company's strong growth prospects justify even higher share prices. He also believes Lightbridge is ripe for an acquisition, although no suitor is in the wings just now.
Farley reckons that earnings in 2000 will top 40 cents a share and that Lightbridge will reach a price-earnings ratio of 30 by the end of the year. This would send Lightbridge's share price above 12, a nifty premium over its current 9. Definitely something to phone home about.
Before it's here, it's on the Bloomberg Terminal.
LEARN MORE