The Wonderful World Of Color
by
CATEGORY: GOLD
-- Tropicool Personal Fan
-- Designer: Insight Product Development LLC & Holmes Products Corp.
CATEGORY: SILVER
-- Gather & Go Rake
-- Designer: Innovations & Development Inc. & True Temper Hardware
CATEGORY: SILVER
-- OXO Good Grips Salad Spinner
-- Designer: Human Factors Industrial Design Inc.
CATEGORY: SILVER
-- Target Toaster
-- Designer: Michael Graves & Associates
Color and CAD-CAM design technology combined to generate a series of expressive and affordable IDEA winners in 1999, especially in consumer products. The black-and-white Braun/Krups aesthetic had competition this year, with yellows, reds, and blues in flowing shapes.
Take the Target Toaster, designed by Michael Graves. Target Stores asked Graves to create over 200 household products to lift its profile in the marketplace. The Toaster, called Pop Art, has the rounded look of '40s kitchen appliances plus a big, yellow, egg-shaped dial. Price: $39.99.
The OXO Good Grips Salad Spinner replaces hard-to-crank spinners with an easy, single-handed machine. Press a soft knob, and it spins like a top. Press a brake button, it stops. Designed by Human Factors Industrial Design, the spinner ($24.95) is the latest in the ergonomic OXO Good Grips line. It won a silver IDEA. A second, the OXO Good Grips Soap Pump Palm Brush ($4.99), designed by Smart Design, won the gold.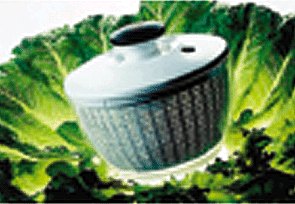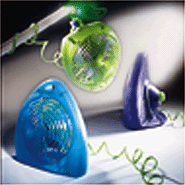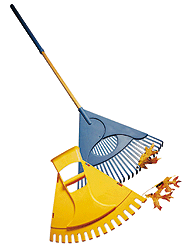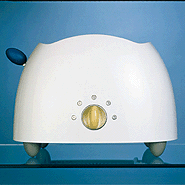 The Gather & Go Rake, designed by Innovations & Development for True Temper Hardware, makes picking up leaves a lot easier. Its second, detachable head can form a clam shell with the rake to pick up leaves. Simple, colorful, and cheap: $11.99.
Finally, Holmes Products' Tropicool Personal Fan, designed by Ann Marie Conrado of Insight Product Development, is a translucent, triangular tabletop fan (or clip-on that attaches to chair arms or window sills). "It's a happy, summery, good design that is affordable," says IDEA juror Ayse Birsel, principal of Olive Design in New York. Price: $12.99 for the tabletop.
Before it's here, it's on the Bloomberg Terminal.
LEARN MORE