The Sweetest Apples In Ages
Joan O'C. Hamilton
CATEGORY: SILVER
-- PowerBook G3
-- Designer: Apple Computer Inc.
CATEGORY: GOLD
-- iMac
-- Designer: Apple Computer Inc.
CATEGORY: SILVER
-- Power Macintosh G3
-- Designer: Apple Computer Inc.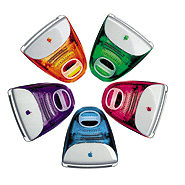 For all its shimmery, translucent dazzle; for its impish at-your-service upturned face; for packing an Internet on-ramp, a great computer, and a game-playing buddy into one peppy steamer trunk for the new millennium; for giving industrial designers the confidence to look their clients right in the eye and say, "See! See what design can do!"; for tucking all those blasted cables out of sight; for turning its form into something you want to touch instead of something you ought to dust; for reminding a beige, 90-degree-angled computer world that colors and soft edges can be irresistible; for giving people afraid to buy computers the hope that it just might be fun after all; for affordability; for revitalizing an American icon, Apple; for "thinking out of the physical and metaphorical box," according to one IDEA juror; and for being cute: a Gold Award to Apple's iMac. And bravo to Jonathan Ive and the Apple design crew for creating what's likely to become one of the century's lasting images. Price: $1,199.
Apple won four IDEA awards this year, including one each for its brawny PowerBook G3 ($2,799) and stylish Power Macintosh G3 ($1,400).
Before it's here, it's on the Bloomberg Terminal.
LEARN MORE