South Korea: Steps Toward Recovery And Reform
by
Amid the clearest signs yet that the South Korean economy has turned the corner, President Kim Dae Jung reshuffled his cabinet. He hoped to squelch fears that a recovery will curb efforts to reform Korea's business practices.
On May 24, Kim replaced 11 of his 17 ministers and named reformer Kang Bong Kyun the new Finance & Economy Minister. The move was seen as a sign that Seoul will continue to pressure Korea's large conglomerates--the chaebols--to cut their debt and restructure their businesses in order to compete in the global economy.
Analysts had begun to worry that Korea's upturn would curtail reform. First-quarter gross domestic product grew by an unexpectedly large 4.6% rate from a year earlier (chart), the first gain since the fourth quarter of 1997, when the International Monetary Fund stepped in with a $60 billion bailout. Although government pump-priming boosted output, other sectors showed improvement. Private demand grew 6.3%, and exports were up 12.4%. But capital investment fell 4.3% from a year ago, an indication that Korean companies are still dealing with an excessive amount of unused capacity.
In addition, the monthly data suggest that the economy ended the quarter with some momentum. In March, industrial production posted an 18.4% gain from a year ago. Retail sales were up 6%. And imports are rising, a sign of increased domestic demand.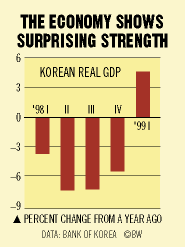 Korea faced civil unrest last year because of rising unemployment, which hit a rate of 8.7% this February. But the situation is improving. The jobless rate in April plunged to 7.2%, from 8.1% in March, the biggest monthly drop in 13 years. Jobs grew by a formidable 2.9% from a year ago. The Labor Ministry now expects the jobless rate to slip to 6.5% in the second half, thanks to the better-than-expected recovery. In fact, the Organization for Economic Cooperation & Development has revised its GDP forecast for Korea to show growth of 4.5% for 1999, sharply better than the tiny 0.5% previously expected.
Before it's here, it's on the Bloomberg Terminal.
LEARN MORE