On Beyond "Born To Raise Hell"
Karen Lowry Miller
CATEGORY: GOLD
-- R 1200 C
-- Designer: BMW
BMW missed the cruiser boom of the early '90s, when Harley hogs came back with a vengeance. But the R 1200 C cruiser, which sells for $14,500, is a heck of a laggard. The silhouette speaks of slow riding under an open sky, head back and handles high. Yet the exposed styling reveals state-of-the-art technology, including the best suspension and brakes that German engineering has to offer.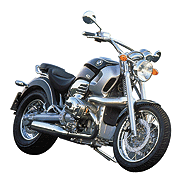 No one would mistake this machine for a Harley-Davidson. It has a classic Boxer engine (1,200cc) with opposing cylinders that BMW has used for 75 years. Its unique telelever front suspension maintains a smooth ride. And of course, there was no skimping on details, down to the real leather seats. The line of the seat slides smoothly into the frame. "We wanted fluid lines, not a chopper with interchangeable pieces," says Edgar Heinrich, one of the chief designers.
The cruiser is now BMW's best-selling model. But it was a tougher sell in-house, where people at all levels saw building a cruiser as "selling our soul," says David Robb, chief of motorcycle design. The team cruised American highways and hung out in biker joints. "We had to figure out what this cruising thing was all about," says Robb. The lesson? "It has sex appeal, nostalgia, and romance." And with the R 1200 C, it's almost a work of art.
Before it's here, it's on the Bloomberg Terminal.
LEARN MORE