Nissan Comes Up With A Sut For Sore Eyes
Larry Armstrong
CATEGORY: GOLD
-- Nissan Sport Utility Truck
-- Designer: Nissan Design International Inc.
What do you get when you cross a sport-ute and a pickup truck? Gerald Hirshberg, who heads Nissan Design International Inc. in San Diego, decided to find out. The result is an innovative hybrid Nissan implemented as a design concept and promptly dubbed SUT--for sport-utility truck. "It's an interesting next step for the SUV... and the first SUV-type vehicle for Gen X," says J. Mays, IDEA judge and vice-president for design at Ford Motor Co. "It evokes memories of the '50s pickups."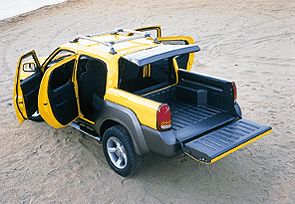 Nissan designed the SUT for people who need the passenger space of an SUV but also occasionally need extra cargo space. The shortened truck bed grafted onto the rear provides a "dirty" zone ideal for surfboards, kayaks, tools, or plants that is distinct from the "clean" passenger interior. But Nissan designers provided a link between the two: a flip-up hatch and folding half-gate. Open those and fold down the rear passenger seats, and the SUT provides a cargo area equivalent to a full pickup truck bed that can carry, for example, 4-by-8-foot sheets of plywood or drywall.
Focus groups liked the SUT concept so much that the company gave the thumbs-up for production. It was designed to use the same chassis as Nissan's Frontier pickup truck, so its Smyrna (Tenn.) factory should have no trouble adapting to it. Nissan isn't saying, but the buzz is that the SUT will be in dealers' showrooms as early as January, 2001. No buzz on the price.
Before it's here, it's on the Bloomberg Terminal.
LEARN MORE