Just About Ready For The Games To Begin
When Juan Antonio Samaranch, head of the International Olympic Committee, pronounced "Syd-en-ee" the winning host of the 2000 Summer Olympic Games, thousands of Sydneysiders on the steps of the landmark Opera House exploded in glee. But that was in 1993.
Sydney has since calmed down. Financial scandals are tarnishing both the image of the Olympic Games and the reputation of an Australian IOC member. Most residents are disgusted at the price of admission, and all are "fed up with living in a construction site," as one says. Some will rent out their homes and head abroad. The airlines, they believe, will offer low fares to fill jumbo jets otherwise deadheading after bringing an expected 150,000 visitors to Australia. Says Sydney-based photographer Jimmy Pozarik: "Most of my friends aren't the slightest bit interested in the Games. The only exception is one who won tickets for all the events for him and his wife and a limo to chauffeur them around."
There's more excitement at Homebush Bay, site of the main stadium and venue for 14 of the 28 sports. Nine miles west of downtown, the area was settled by Europeans shortly after the arrival of the first fleet of English convicts and their jailers in 1788. Pioneers ran cattle, logged timber, and made salt. Brickworks, an abattoir, a naval armaments depot (used by the U.S. Navy during World War II) and, finally, a city dump later occupied the site. An environmentally conscious lot, Australians are spending nearly $100 million to clean up industrial toxins.
BUSH HATS. Also eager to avoid traffic fiascos like those that marred the Atlanta Games, the Sydney Organizing Committee for the Olympic Games (SOCOG) decreed that spectators must ride public transportation to venues. To test the public system, I boarded a downtown train for the 18-minute ride to Olympic Park Station. Half the passengers are Sydney mums and dads taking the kids to an agriculture show. The rest are from the "bush," the men with wide-brimmed bush hats, narrow ties, and neat cord pants; the women in flowered frocks and sensible shoes. Australia is so suburban it is easy to forget how much of the economy, especially the export sector, still depends on such agricultural products as wool, cotton, fruit, cattle, and sugar.
At my last visit, a year ago, Homebush Bay's Olympic Park, the epicenter of the games, was a raw construction site. Now, gleaming stadiums rise. There's another change: With 175 site visits a month from inquiring journalists, the SOCOG no longer gives personal tours. Now "journos" get a media kit, a free pass, and directions to the tour bus, which I board with 20 other visitors. The driver's accent is Eastern European with an overlay of nasal Australian drawl. A Sydney-based Dutch woman grumbles about the impenetrability of the Australian accent: "They really need some people who speak standard English."
From the bus, we see that the Olympics is part of a huge urban renewal project--1,111-acre Millennium Park is larger than New York's Central Park. By now, most of the sports facilities are finished and being tested. The towering Stadium Australia, site of opening and closing ceremonies and most track and field events, recently handled 104,000 fans for a rugby match. The athletes' village is almost done. It's the first compound in Olympic history capable of housing every athlete and all support staff--15,300. After the Games, the village will form the core of a solar-powered, high-tech suburb. The price of the two-bedroom flats built just two years ago has doubled, to $450,000.
I alight at the New South Wales State Sports Centre, site of tae kwon do and table tennis. But I'm more interested in the Hall of Fame of Australian sporting heroes. Phil Coles, a former rower, is one. He's the IOC member charged with accepting hospitality from corporations and jewelry valued at $10,000 from an unnamed Greek who wanted the 1996 Games for Athens. Coles gave the baubles to his wife, then divorced her, and she told authorities. Now, Coles is barely hanging on to his IOC membership.
One wall of the Hall of Fame is devoted to Aboriginal athletes. Few made it to the top of their sport, but native rights is a major issue, and lawsuits demanding restitution fill the courts. Most Australians believe the Aborigines have a case, and this Hall of Fame is part of the country's response.
I stop to chat with Allan and Heather Frizell of Townsville, visiting Olympic Park now because they don't plan on attending the Games. "Even though we could get free housing in Sydney, ticket costs will be too high," says Allan. "We only really want to see the swimming and the gymnastics," chimes in Heather. But she fears VIPs will have first crack at tickets, and "who wants to watch beach volleyball and synchronized swimming?" Aware that such concern is widespread, officials promise that 80% of some 9 million tickets available will cost less than $100.
The bus tour over, I check out Stadium Australia, some 110,000 seats with not a single obstructed sight line. And no umbrellas allowed. In the unlikely event of rain, those seated down in front or in the cantilevered bleachers will get wet--a damper if you've paid between $105 and $1,382 for your seat. But an Englishman with experience in the building trades is impressed: "Typically Australian. They never do things by halves." Not doing things by halves is costly--$2.6 billion to mount the Games. But some $7.3 billion in spending, much in Olympic-related construction, is expected to pour into the economy.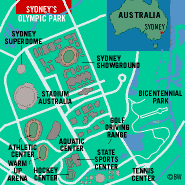 LAUREL WREATHS. Later, I run into the Frizells again, who ask if I'll be back for the Games. "Probably not," I reply. I don't care for crowds, and it would cost a bundle. But that's not all of it. In 1956, I attended the Melbourne Olympics and left believing that the Games were both the world's greatest sporting event and one of mankind's finer accomplishments. I'm less starry-eyed now. I'd eliminate all team events save relays, award laurel wreaths to winners, and ban national anthems and flag raisings. Today's excessive nationalism and cheating have come close to the level that prompted the Greeks to ban the originals, designed, after all, to bring together athletes competing for the love of sport.
But that's my rational mind speaking. I know darn well that come September, 2000, I'll be cheering on the Aussies to rack up those medals.
Before it's here, it's on the Bloomberg Terminal.
LEARN MORE