Downloaded Any Good Books Lately?
Joan O'C. Hamilton
CATEGORY: BRONZE
-- Rocket eBook
-- Designer: Palo Alto Products Intl. & NuvoMedia Inc.
CATEGORY: GOLD
-- IBM Electronic Newspaper
-- Designer: Better.Design Solutions & IBM Corp.
CATEGORY: GOLD
-- SoftBook
-- Designer: IDEO, Lunar Design, & SoftBook Press
Few things in life match the pleasure of cracking open a book you've been dying to read. On a train, at the beach, or hunkered down by the fire, the trick is get comfortable and leave the world behind.
No wonder that a compelling design quest is capturing the simplicity and portability of a book, magazine, or newspaper in digital form. This year, three different digital readers won IDEAs. Two are on the market, offered by Silicon Valley startups SoftBook Press and NuvoMedia Inc. A third is a study for an "electronic newspaper" by IBM.
Each design attempts to integrate hardware and software in physical forms that are familiar, yet better suited to the complex nature of digital media. The $499 Rocket eBook was designed by Palo Alto Products Intl. It's a compact paperback-size device that tucks into a desktop cradle and attaches to a PC to download books and other material.
At IBM, however, Program Manager for Strategic Design Robert Steinbugler challenged his team to pay attention to what people actually do with their newspapers, from how they read them to how they fold them. Then the team used some not-ready-for-primetime technology called "electronic ink." Theoretically, the ink, which is trapped inside flexible plastic pages, responds to electronic charges and reconfigures into new words and graphics. People would simply plug their reader into the Web each morning to update it.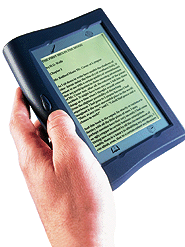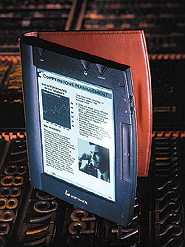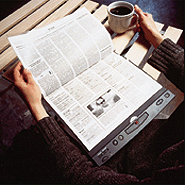 LUXE LEATHER. Jurors reserved the Gold Award for computers for SoftBook Press's leather-folder E-book, SoftBook. At $600, SoftBook is targeted at professionals who read reams of information. Its cover holds magnetic tabs that work as on/off switches when the cover is opened or shut. And a novel bar switch "turns" the pages, like a book.
SoftBook Press CEO James Sachs, himself an industrial designer, turned to Lunar Design and his former colleagues at IDEO for help with everything from mechanical engineering to studies of how people use books.
Integrating hardware and software was a challenge in each case, notes juror Sam Lucente, principal of Lucente Design in Palo Alto, Calif. "It's not conventional industrial design anymore."
Before it's here, it's on the Bloomberg Terminal.
LEARN MORE