Interest-rate worries have been depressing the valuations of one of Wall Street's most venerable sectors--banking stocks. And at a time when value investing seems to be making a comeback, more and more smart investors are casting their eyes in that direction. Dale Jacobs, who runs the Financial Investors hedge fund group--which specializes in the stocks of banks and savings and loans--believes this is a particularly good time to buy banks. One that he has been buying is the little-known and underappreciated Imperial Bancorp (IMP).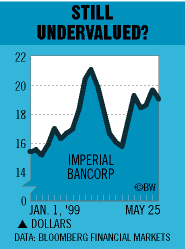 Based in Inglewood, Calif., Imperial is a major regional banker--larger than the various small community banks that dot the state but far smaller than, say, Wells Fargo. "I happen to be a believer that they're well-positioned for this market," says Jacobs. The Big Board-traded company has hardly been a Wall Street favorite, he notes: Its shares have dropped 30% in the past year. Earnings have been depressed by some of the company's subsidiaries. But the company has shed its laggard businesses, such as a sub-prime auto-lending operation, and Jacobs believes the company is undervalued. The company is trading at just 13 times estimated 1999 earnings, and he sees its shares, now at 19, trading in the "high 20s" in a year or so.
Another bank that Jacobs has been buying is Sovereign Bancorp (SVRN) in Wyomissing, Pa. Its shares took a wild ride in April when Sovereign announced plans to create a separate Internet bank. Jacobs is betting on Sovereign for more prosaic reasons: its profitability, sound management, and "good solid franchise." He sees its shares, now at about 13, climbing to 19 or better in the next twelve months.
Before it's here, it's on the Bloomberg Terminal.
LEARN MORE