Rebound For An Online Ad Shop?
By
Online advertising is mushrooming, thanks to the explosion of the Internet as a global communications medium. Ad spending on the Net is expected to hit $4.4 billion by 2000. So when online ad agency Modem Media.Poppe Tyson (MMPT) went public on Feb. 5, its stock heated up from its offering price of 16 a share to 45 the same day. The stock has since pulled back--along with other Net issues. It had slumped to 26 by May 18. But guess what? Some pros are more bullish than ever. They think Modem Media is on the way back to 45.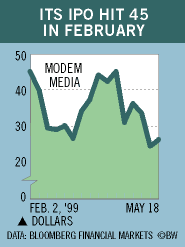 The "high internal growth rate" at Modem Media in the usually slow first quarter is "indicative of the shift in ad dollars toward the Internet," notes Alexia Quadrani, an analyst at Bear Stearns. She expects the trend will accelerate. Modem Media's first-quarter revenues jumped 37%, to $12 million, beating expectations. And it posted a loss of 5 cents a share, better than the expected 16 cents loss. Quadrani expects revenues of $58 million in 1999 and $72 million in 2000, vs. 1998's $42 million. She sees a loss of 19 cents in 1999 and earnings of 5 cents a share in 2000.
Among Modem Media's clients: AT&T, General Motors, IBM, 3M, J.C. Penney, and Citibank. Just 10 clients accounted for some 75% of revenues. About 53% owned by True North Communications, the No. 6 ad company, Modem Media plans to add only about six new clients a year so it can focus on advertisers whose overseas online spending is expected to balloon in the next few years.