Britain: Trying To Balance A Lopsided Recovery
Officials at the Bank of England are hinting at one more interest-rate cut, but the aim is less to pump up economic growth than to take some air out of the pound sterling.
After its May 6 meeting, at which the Monetary Policy Committee (MPC) left its benchmark rate at 5.25%, the BOE said that unless sterling weakened, inflation may undershoot the bank's target rate, so further interest-rate cuts would be in order. Thanks to a jump in housing costs, consumer prices jumped 0.7% in April, but for the year, prices are up only 1.6%. Excluding mortgage interest, the underlying rate is 2.4%, below the BOE's target of 2.5% (chart).
The fear is that an overvalued currency means an asymmetrical recovery. In fact, because of falling exports, manufacturing remains weak. The purchasing managers' index in April edged up to 48.1% from March's 47.2%, but it is still below 50%, suggesting the factory sector contracted further in April. Construction, retailing, and services, however, are reporting output gains.
The gap between foreign and domestic demand has cut into overall economic growth. In 1998, real gross domestic product grew 1.1%, but without foreign trade, the gain was 3.1%. The picture is not improving for 1999. The trade deficit mushroomed to a record 2.7 billion pounds ($4.3 billion) in January and narrowed a bit in February.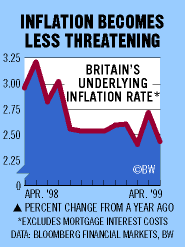 Policymakers may cut rates as soon as the next MPC meeting, on June 9 and 10. But so far, lower British rates have not weakened investor demand for sterling. The BOE has chopped rates 2 1/4 percentage points since October, but the pound is up 4% since then on a trade-weighted basis. Much like the U.S. dollar, sterling's strength reflects a gap in growth outlooks. Britain's domestic economy looks healthier than those of its neighbors in the euro zone. In addition, even with the previous cuts, British rates are well above the yields in the euro zone and the U.S. Until those differentials narrow, Britain will not see a reversal in sterling's upward trend.