Bad Blood As The Handover Nears...But A New Leader Draws Cheers
It's just after dawn in Macau, the hour when weary gamblers stumble out of the casinos and head for home. At the public garden named for Portuguese poet Luis de Cam centses, a handful of elderly Chinese are doing tai chi exercises under the tangled banyan trees. Their arms, circling in rhythmic motion, contrast with the nearby sculpture of figures forever frozen in bronze. Titled Embrace, the work is a monument to what tourist signs here proclaim as "the centuries-old friendship between Portugal and China."
That friendship is anything but solid these days. On Dec. 20, Portugal must cede sovereignty over Macau to China after 442 years--just as Britain did with Hong Kong in 1997. But after years of harmony, the talks have recently grown acrimonious. In March, Portuguese President Jorge Sampaio indicated that he may boycott the handover ceremony if China sends troops into the territory before the date. And that's not the only issue: Macau's official language, and the fate of 130,000 Macanese who hold European Union passports--about one-third of the population--are causing antagonism as well. Said Sampaio on his March visit: "We are a country of pride. I would like this period to end with dignity for everyone concerned."
SHOCKED. China is taking a hard line because it holds all the cards. Portugal may have once been rich and powerful, but no more. So China refuses to allow legislation requiring Portuguese to be used in schools and courts after Dec. 20. China is also refusing to allow Macanese to hold dual citizenship.
But it's China's announcement that it will send in the People's Liberation Army before the takeover that irks the Portuguese most. In Hong Kong, when British troops were preparing to hand over their garrisons to China, China negotiated the arrival of military advance teams. Portugal and China have never agreed to such a thing, and Lisbon was shocked by the March announcement. "We haven't had any troops here since we withdrew them in 1974," laments Macau Tourism & Communication Secretary Antonio M. Salavessa da Costa. "Why are they declaring this now?"
The reason, partly, is Macau's crime problem. Gangland killings have hurt the tourism and gambling industry, which accounts for 43% of gross domestic product. Arrivals dropped 12% in 1998. Some Macau residents blame the crime wave on corrupt police, many of whom will retire when China takes over. The Portuguese point out that many cities, including Lisbon, have higher crime rates. But in the first four months of 1999, 15 people were murdered in Macau, compared with 22 all last year.
If the Portuguese are defensive on that score, they're making sure to leave a proud legacy in other ways. After building a new airport and a series of bridges, the government spent $130 million on a Cultural Center and orchestra hall, inaugurated in March. Every colonial-era building has gotten a fresh coat of paint, and the government is also tuning up the civil codes. "We're putting in a lot because we want Macau to have very good legs for the future," says da Costa. "When we leave, we want to have things ready to keep the way of life."
Macau's way of life has already been changing drastically. In the past five years, skyscrapers have sprung up downtown where previously there were only traditional three-story "shophouses" and colonial buildings. Much of the area separating Macau's three islands has become landfill crowded with new roads and apartment blocs. And the population has become increasingly Chinese: 47% are recent immigrants from the mainland, while many Portuguese and Macanese are returning to Europe.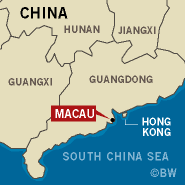 Most residents think Chinese rule can only improve things. Fed up with crime and insecurity, they can't wait until newly selected Chief Executive Edmund Ho takes his post on Dec. 20. Ho, head of his family's Tai Fung Bank, is the son of a venerated leader in the Chinese community, and residents believe those ties may help him end the gang wars. Even some Portuguese agree. "I think things will be a little bit more stable," says Fernando Gomes, who runs the famous Fernando's seafood restaurant on Black Sand Beach. "People will come to Macau as a place of refuge." And a place where they can gamble in peace.
Before it's here, it's on the Bloomberg Terminal.
LEARN MORE