The Jolly Roger Flies High...As Piracy Feeds The Hungry
At 2 a.m. on Mar. 17, a bright moon hung over the Strait of Malacca. A twin-motor speedboat sped along the narrow body of water between Malaysia and Indonesia in pursuit of its target, the 5,590-ton Marine Master, registered in Panama and hauling soda ash. About 20 men clad in army fatigues, automatic rifles slung over their shoulders, scrambled up a rope ladder onto the stern and caught the 21-member crew by surprise. On Mar. 21, the pirates put the crew in nine inflatable life rafts and set them adrift; six days later they were picked up by a Thai vessel. As for the Marine Master, "by now she would have had a makeover--new name, flag, paint, and crew. The soda ash would have been sold and the ship chartered out," says Noel Chong, Kuala Lumpur manager of the London-based International Maritime Bureau (IMB), part of the International Chamber of Commerce.
At least no one died. Piracy has long been a scourge in Asia, but the economic crisis has turned it even more vicious and costly for shippers. "In the last quarter of 1998, we saw ships hijacked and whole crews murdered in cold blood," says Pottengal Mukundan, an IMB director. Of the 192 reported pirate attacks worldwide last year, 95 took place in the waters of the Far East and Southeast Asia, down from 110 the year before. But last year, 162 crew members were assaulted, maimed, or killed worldwide, up from 105 in 1997--and all but one of the 67 reported murders occurred around the South China Sea and the Strait of Malacca. Ship hijackings shot up 50% last year, to 15 ships from around 10 in '97.
Besides its cost in life and millions of dollars in cargo, piracy poses a grave threat to the environment. Experts fear a disaster like the Exxon Valdez oil spill in Alaska. "A similar incident in the Strait of Malacca could prove catastrophic," says Jayant Abhayankar, deputy director of the International Maritime Organization in London. Pirates have concentrated their attacks on a crowded 30-kilometer stretch of the Philip Channel, the southern half of the Strait of Malacca, through which pass eastbound supertankers. During one incident in the Philip Channel, the bridge of a large tanker was left unmanned for 70 minutes. Fortunately, no accident occurred.
NO DEFENSE. And many incidents are not reported at all because of concerns that an inquiry would disrupt schedules. "We make money when a ship is sailing, not when it's grounded," says an official from Bangkok-based Great Eastern Shipping.
Unfortunately, there's not much shippers can do to ward off attacks. Many nations won't allow firearms on commercial ships flying their flags, and others won't accept armed vessels at their ports. "All we have are water cannons on deck to douse the pirates and instructions to stay clear of small islands around Indonesia," says Lars D. Nielsen, chartering manager at Norden Tankers & Bulkers in Singapore.
Some shippers don't even take the pirate menace that seriously. "We're worried about piracy, but we're not hiking premiums," says Graham Gordon, a broker with Jardine Insurance in Singapore. "We're just being watchful of certain trade routes." No more watchful, certainly, than crewmen on moonlit nights in the Philip Channel.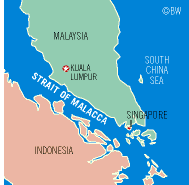 Asia's recession, while creating chances for investors to feast on cheap assets, has also given a boost to the buccaneers. Rising poverty and unemployment in Indonesia make it easier for pirate syndicates to recruit there, say IMB officials and shippers. And inhabitants of remote islands are ganging up to attack ships for food and cigarettes. "Some of these ships can feed a whole Indonesian village. And these guys have nothing to lose," says Nielsen of Norden Tankers. Cash-starved nations like Indonesia have also cut spending on the navy and coast guard.
Provisions aside, the recession has pirates hunting a different kind of booty. The IMB's Mukundan says there are indications that pirates are shifting their targets from general cargo vessels to tankers carrying marine fuel oil. "In these waters, with all the small vessels and fishing boats, there's always a ready market for fuel at bargain prices," he says. And much of the pirated oil has been sold openly in China, say oil traders. As long as such opportunity beckons, the disciples of Blackbeard will ply their trade.
Before it's here, it's on the Bloomberg Terminal.
LEARN MORE