On The Tech Tightrope
You need the latest gear--but it doesn't have to break you
Edward R. Silverman
WIRING YOUR business with the latest technology could make you blow a fuse, if not your entire budget. That's because costs for the average small company are projected to rise for the next three years at a double-digit pace--more than 15% this year, says Access Media International, a small-business market researcher in New York. By the year 2001, says AMI, you'll be paying 46% more for technology than you did last year.
The culprit? Not computers. The cost for desktops suitable for small companies are expected to fall 27% from 1998 through next year, according to Sherwood Research Inc. in Natick, Mass. And the newest small-business servers are debuting at ever-cheaper prices.
But the range of tech gear you'll need to remain competitive is growing. You may not be able to forgo upgrades when your rivals have their own Web site, let customers place orders by E-mail, or provide their sales force with remote access. If you don't already have those capabilities, you may be one of the companies spending far more than the national average in coming years.
The picture isn't all bleak. "The good news is that a lot of the large vendors are targeting the small business now," says Joseph Ferlazzo, an analyst with Technology Business Research Inc. in Hampton, N.H. He recommends checking out computer resellers, independent vendors who can offer competitively priced maintenance and Internet services.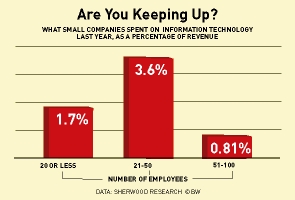 Leasing, once the province of large companies, is now available for the smallest businesses. It's attractive because the cash outlay is smaller and, as with purchases, software is usually part of the deal. Also important is that once the lease is up, it's fairly simple to trade in the gear and upgrade to the latest technology. That's crucial for cutting-edge users who deal in the Web and graphics.
For others, buying some basic equipment makes more sense. If the goal is to create a Web site to flag your existence, you probably don't need your own server, the latest programming gimmicks, or 24-hour, 7-day-a-week service. "In some businesses, there's a need to actually accelerate the technology spending," says David Thor of Sherwood Research. "For others, the investment should really be negligible." Plug that into your budget, and you may find your tech costs are comfortably behind the curve.