Italy: No Pickup In Tempo For A While Yet
By
Italy has been the euro zone's growth laggard for three years, and hopes for any acceleration may have to wait yet another year. Growth in 1999 may not even match last year's 1.4% pace, although faster growth should show up in the second half, as the three-percentage-point drop in interest rates since mid-1997 and a firmer global economy lift demand.
Protracted global weakness has hit Italy's exports hard (chart). Its non-European Union trade surplus fell to 2.1 trillion lire ($1.16 billion) in March, less than half the year-ago level. First-quarter non-EU exports are down 14% from a year ago, led by a 34% plunge in shipments to the Mercosur countries in Latin America and a 13% falloff to Southeast Asia. Imports are also down, although all the weakness is in intermediate goods due for further processing, which again reflects sagging exports.
The government also estimates that declining tourism revenues, the result of the Balkan war, will cut 0.2 percentage points from its 1.5% growth forecast for 1999, and that does not include the impact of declining exports to the Balkans and Central Europe. But if stabilization abroad continues, trade should become a plus for growth by yearend.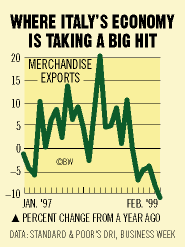 Domestic demand may already be turning the corner. So far, the lift from past rate cuts has been small, partly because many Italian households keep their savings in short-term assets, which suffer as rates fall. But recently, car registrations, although down 5.4% in April from a year ago, have firmed up this year. And while concern over the war pushed April consumer confidence down to the lowest level since December, 1997, buying intentions are strengthening. Housing is also due for a pickup. Loans for home buying are accelerating, and the government is offering tax breaks for homebuilding.
As overall demand picks up, the slumping industrial sector, where orders and business confidence remain weak, will do the same. By 2000, most private analysts look for Italian economic growth to accelerate to about 2.5%.