Japan: Still No Consumer Turnaround In Sight
While visiting the U.S., Prime Minister Keizo Obuchi said Japan's economy was showing "emerging signs for the better." Those signs, however, weren't coming from the labor market, which is in its worst condition in the modern era. And that weakness means consumers are unlikely to lead an economic recovery soon.
The unemployment rate in Japan hit a record 4.8% in March, up from the previous high of 4.6% in February. Payrolls fell 260,000 as corporate restructuring contributed to job declines in most industries. The job-to-applicant ratio remained at a dismal .49, and manufacturing overtime dropped 0.6%, the second decline in four months.
Japan's jobless rate is the highest since record-keeping began in 1953. And for the first time since then, the unemployment rate in the U.S. is lower than in Japan (chart). Japan follows International Labor Organization methods for calculating its rate, but using U.S. standards, unemployment is between 7% and 8%, say Japanese labor economists.
What's worse for the Japanese outlook is that the jobless rate is expected to rise further. "The tap on the shoulder"--the Japanese idiom for being laid off--is becoming quick and widespread. Big corporations take well over a year to ease employees out. But the high rate of bankruptcies among small and midsize companies means that more workers are losing their jobs immediately.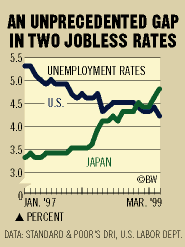 That's why the consumer sector is in such bad shape. Total consumer spending was flat in '98. And in the first quarter, household spending of salaried workers was down about 2% from a year ago.
For now, the government is sticking with its target of real gross-domestic-product growth of 0.5% for the fiscal year ending in March, 2000. Real GDP fell 3% for all of 1998. However, private economists expect no growth this year, mostly because any upturn will require consumers to take part. But with thousands of workers fearing "a tap on the shoulder," households will continue to save rather than spend.