Investors Rush Back To Malaysia For More
They're lured by lower rates and moves to relax controls
By
Forgive and forget. That seems to be many investors' attitude toward Malaysia. Eight months after Prime Minister Mahathir Mohamad seemingly burned his bridges with foreign portfolio managers by imposing currency controls and freezing their holdings, foreigners are once again piling into the Kuala Lumpur Stock Exchange. Since January, the bourse is up by 15%.
The lures are lower interest rates, signs of economic recovery, and moves to relax controls, including removing the freeze on trading Malaysian stocks in Singapore. Also, Malaysia is expected to make the ringgit, pegged at 3.8 to the U.S. dollar, freely convertible again in September. So in a few months, foreign investors can cash out. No wonder that, since mid-March, stocks such as Telekom Malaysia, fast-food chain KFC Holdings (Malaysia), and developer YTL have leaped by 40% to 60%. Morgan Stanley Dean Witter, one of many brokerages vying to underwrite a $2 billion government bond offering, may soon reinstate Malaysia in its popular index for emerging markets in Asia. That has brought foreign funds rushing back into the market. "Everybody is knocking on Malaysia's door," says a Singapore broker.
Does this mean Mahathir's tactics have been vindicated? Yes and no. By making it hard for investors to pull money out, Mahathir may have helped avert a meltdown on the scale of Indonesia or Thailand. But Malaysia has also paid a price for not letting the market run its course and for shocking foreigners with currency controls. Since January, its bourse has trailed those of Korea, Hong Kong, Thailand, and Indonesia, where prices have surged by around 30%.
FRAGILE? Confidence in Malaysia could be much stronger. Matthews International Funds Managing Director Mark W. Headley says the recent runup has made him more bullish on certain Malaysian consumer stocks. Headley's Matthews Pacific Tiger Fund has had 2% of its $70 million portfolio frozen in Kuala Lumpur since September. Those holdings have since rebounded. Trouble is, they have not rebounded nearly as much as other Asian stocks in the fund, which has soared by 110% in the past eight months.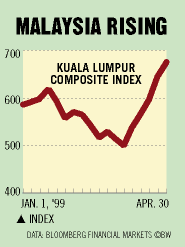 Moreover, while Korea's recovery is "real," Headley suspects that Malaysia's rebound is fragile--the result of government spending and bailouts of companies run by Mahathir cronies. On top of this, he still distrusts Mahathir. "It's one thing for Indonesia to drop because of social problems," Headley reasons. "It's another to have the Prime Minister call [investors] pigs and take your money away for a year." Headley clearly isn't speaking for all fund managers who are flocking back to Malaysia. But on this point they could agree: The best way to win back investors for good is set clear rules--and stick to them this time.