Fresh Rumbles At Input/Output?
By
With the sudden spurt in oil stocks, some industry watchers think that large companies that put their acquisition plans on hold when crude prices tanked will make a fresh run at their buyout targets. One such candidate, say some money pros, is Input/Output (IO), a Big Board-listed designer and maker of products, used on land and at sea, for collecting seismic data. The stock remains depressed even though other oil stocks have blasted off--as crude prices rallied from $10 a barrel in December to $18 four months later.
Trading as high as 26 last May, the stock is now at 7. Demand for its products tumbled when oil prices started sliding in mid-1998. When the stock price spiked last year, it was rumored that a number of companies, including Baker Hughes and Halliburton, were interested in Input/Output.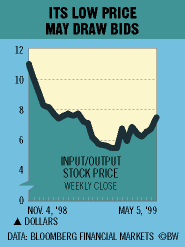 The stock now sells for less than its estimated book value of $8 a share. But with cash of $36.9 million and debt of only $10 million, the stock should fetch 15, says one strategist at an investment firm that focuses on oil and gas issues.
"Input/Output remains a technology leader in the seismic industry, positioned to participate" in the expected rebound in the demand for seismic-data acquisition tools, says Joe Agular, an analyst at investment house Johnson Rice. "It wouldn't surprise us if some potential suitors attempt to buy the company at currently depressed prices," he says. "Despite the poor earnings outlook, we continue to recommend purchase of the stock." He expects Input/Output to post a loss in fiscal 1999, and then show earnings of 15 cents a share in 2000.